Rejuvenating Johnson Park with L'Oréal
One would typically avoid the park while it is raining, but that didn't stop L'Oréal volunteers! Despite the heavy rainfall, volunteers split into two groups and got to work. The first group set out on a mission to clear the park from debris and invasive plant species. Their work saved the staff weeks of time that will now be used to maintain other aspects of the park. The second group focused on assembling School Supply and Garden kits to help students prepare for the upcoming school year. Thank you, L'Oréal, for your commitment to the community!
---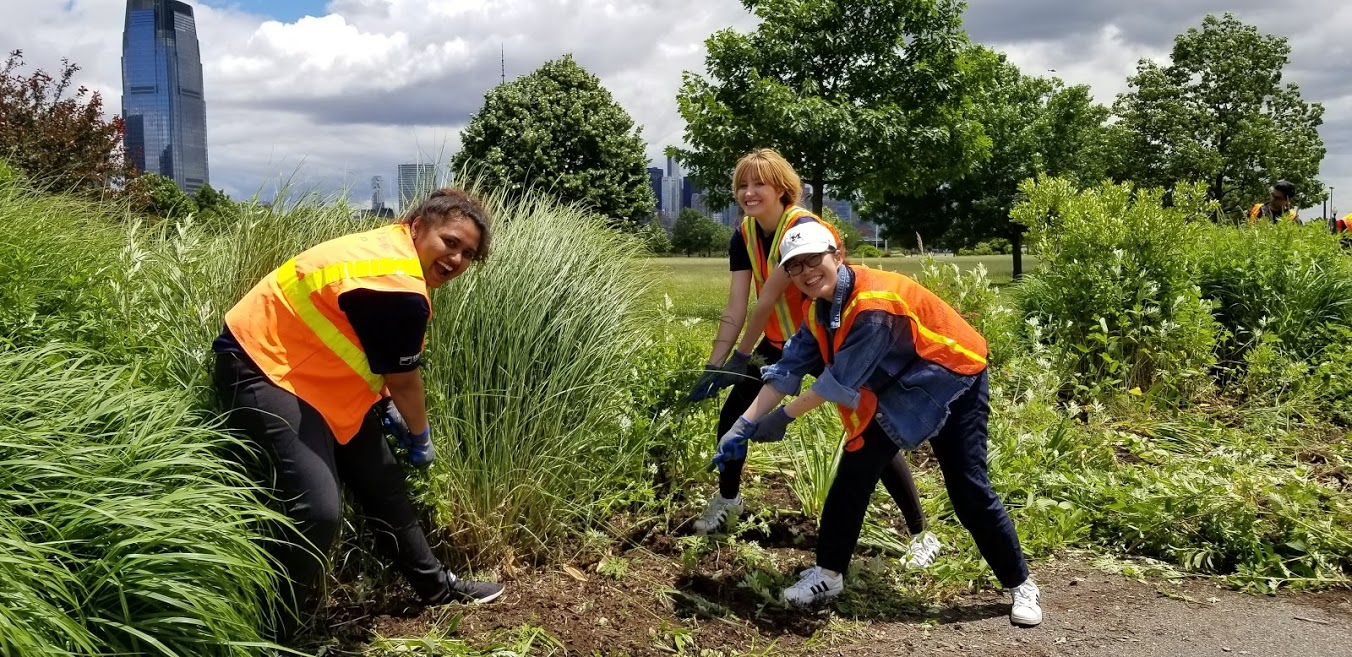 Goldman Sachs Gives Back
Over 40 Goldman Sachs interns traveled to Liberty State Park to clear out overgrown weeds from frequently used walkways. Their efforts helped beautify the space so park visitors can admire the breath-taking views for the entire summer. Thank you, Goldman Sachs; nothing can match your commitment to community service!
---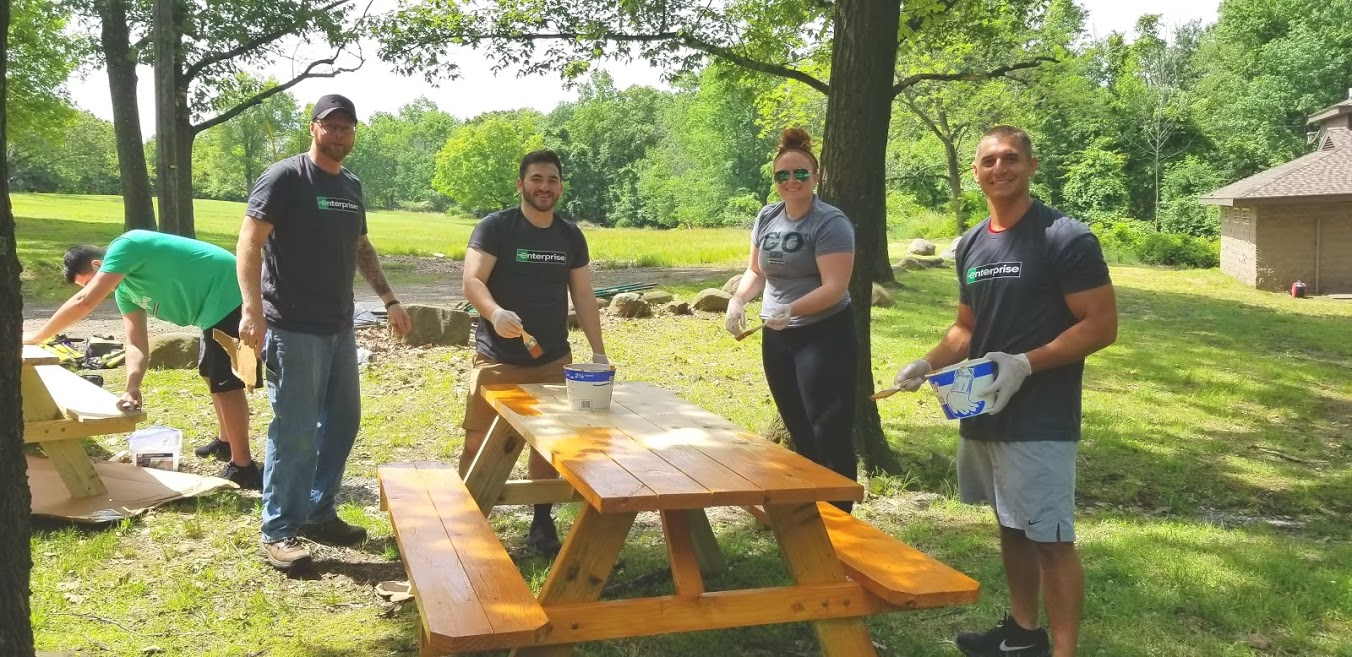 Cleaning up Garret Mountain with Enterprise
Enterprise volunteers took their expertise off road and set out to revitalize the Garret Mountain Reservation. Volunteers helped clear out the weeds from miles of path, and assembled picnic tables to give people a place to rest. Thanks, Enterprise, for improving the local environment!
---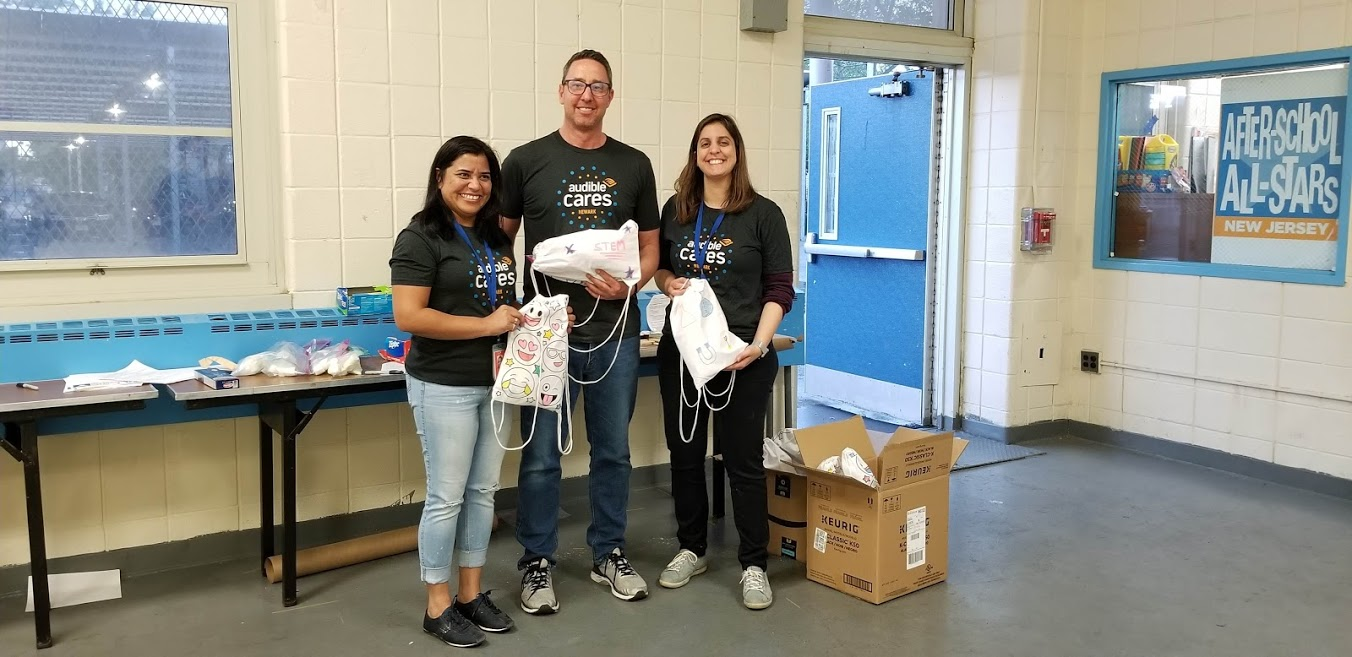 Audible's Commitment to Newark Continues
On a gloomy Thursday morning, volunteers from Audible came to Camden Street School to brighten up the kids' day. Audible volunteers split up to perform different tasks to help both the students and faculty. Some painted a new mural near the school entrance to help encourage students every day. At the same time, other volunteers focused on building new furniture for the faculty break room. But it doesn't stop there! The remaining volunteers wanted to give the students an educational gift to take home. They assembled STEM kits filled with various activities to introduce kids to basic chemistry, physics, and engineering. Altogether, Audible volunteers helped create a fun and educational environment for everyone!
---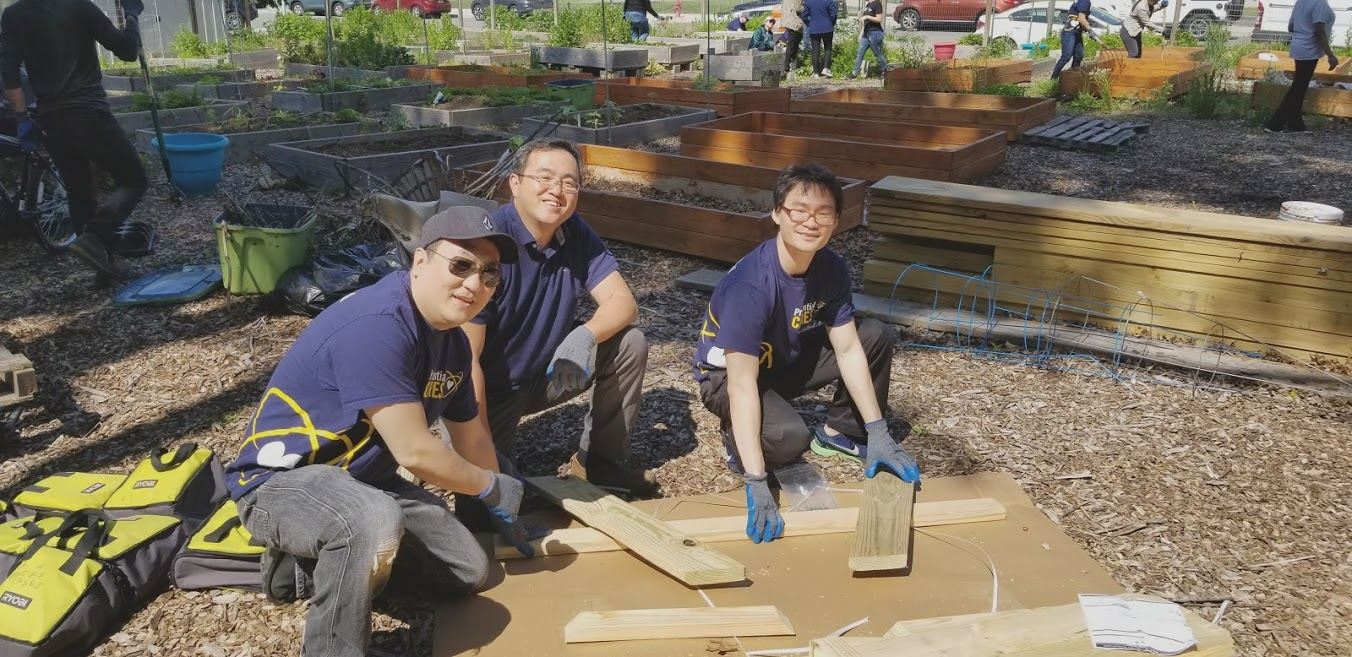 Prudential Planting Flowers and Spreading Smiles
On May 22nd, Prudential volunteers took time out of their day and set out to revitalize the Winans Street Community Garden. By clearing out weeds and replanting beneficial flowers like chamomile and milkweed, they are preserving the viability of the garden. In addition, volunteers assembled a bench so visitors have a place to sit and relax. Thanks to Prudential's hard work, community members can once again enjoy the garden. Great Job Prudential!
---
Vertex Global Day of Service
On Tuesday, April 23rd, over 500 Vertex volunteers spent their day creating real change at several community locations around their headquarters in King of Prussia, PA for their first annual Day of Service. Vertex volunteers worked to totally transform Henry Houston Elementary School with 130 volunteers by creating essential play spaces by painting new line games, transformed a teacher's lounge and taught the importance of well-being to students through a fitness workshop and tested their problem-solving skills through interactive STEM workshops just to name a few.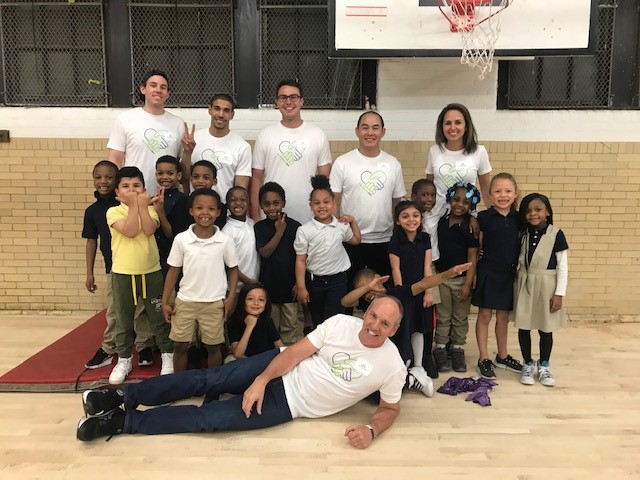 At Friends Association, an organization that provides emergency services to families experiencing homelessness, volunteers brightened the space by repainting a family's unit and created an outdoor oasis by landscaping, planting flowers and building a picnic table for clients to enjoy. Over at the West Philadelphia Community Center, volunteers worked to keep children inspired by painting custom murals, brightened an afterschool classroom with a fresh coat of paint and revamped their outdoor play area by building a picnic table and assembling a canopy for children to use on a hot summer's day. Volunteers at Wissahickon Park worked to preserve it's natural beauty by removing invasive species and planting flowers for community members to enjoy. Vertex team members who were not able to leave the office, created five different impactful kits to be donated to children in hospitals, veteran's experiencing homelessness, animal shelters in need as well as the students of Henry Houston to engage them in different STEM experiments. In just five hours, Vertex volunteers were able to assemble 253 kits for in need community members. Although the volunteers accomplished this in just one day, the impact that Vertex volunteers made will be remembered forever. Thank you, Vertex, for your passion and dedication to our communities!
---
Becton Dickinson 2018 Commmunity Day a Hit!
As a company dedicated to improving patient outcomes with their cutting-edge medical technology, Becton Dickinson employees are no strangers to putting the needs of the community ahead of their own. That was certainly the case on October 23rd, as over 100 BD employees spread out across Morris and Hudson counties to impart their generosity onto Lewis Morris Park, Grover Cleveland Park, The Community Food Bank of New Jersey, and MedShare, a medical surplus supply organization responsible for sourcing and directing supplying the very medical devices that companies like Becton Dickinson create to service communities in need around the world.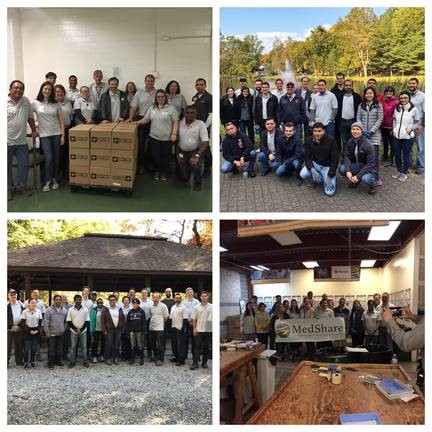 Normally shackled by their desks, BD employees managed to step behind the curtain to pack a total of 2,900 lbs. of medical supplies into 293 individual boxes, taking their passion for improving patient outcomes with medical technology full-circle. In Hillside, NJ, another group of volunteers worked to expand their compassion to those facing food insecurity, where they sorted and packaged thousands of pounds of food at the Food Bank of NJ, benefiting hundreds of families in 8 separate counties. While half of Becton Dickinson worked to benefit the lives of patients and hungry families, the rest of the group set their sights on taking care of the environment, planting and fencing off new foliage at Lewis Morris Park as well as removing non-native plants from Grover Cleveland Park in Essex Fells among many other tasks. In coming together to give back to their community, Becton Dickinson has shown that their desire to create meaningful change in the world knows no bounds. Thank you for a fantastic Community Service Day - looking forward to many more!
---
Conner Strong & Buckelew Strengthens New Jersey
On Friday, June 8th, more than 170 Conner Strong & Buckelew employees gathered at various locations throughout New Jersey showing their commitment to improving the communities. The team in Toms River spent their day at Fulfill, previously known as the Foodbank of Monmouth and Ocean County. Volunteers broke down an old garden bed, built new beds and planted corn for a Fall harvest. This project will help Fulfill continue to work towards alleviating hunger and providing fresh produce to their clients. The Parsippany office headed to Headstart of Morris County where they created a music playground mud kitchen. Students from Headstart had a fun and educational day as they learned the importance of staying healthy through Fit and Fun and Nutrition workshops. The largest transformation took place at the Yorkship Family School in Camden. Volunteers hand crafted benches, picnic tables and an outdoor classroom, and painted line games creating an interactive recess space. Raised garden beds, fence cup and plywood murals were created and installed on the fencelines to encourage schools spirit and brighten the outdoor areas. Inside, the teacher's lounge was transformed with new furniture and a fresh coat of paint, and the hallways screamed lion-pride thanks to colorfully-painted murals throughout the halls. In the classrooms, students took part in Anti-Bullying, 3-Doodler, and Geography workshops. On a day like this, it's hard to tell who had more fun, volunteers or students and staff.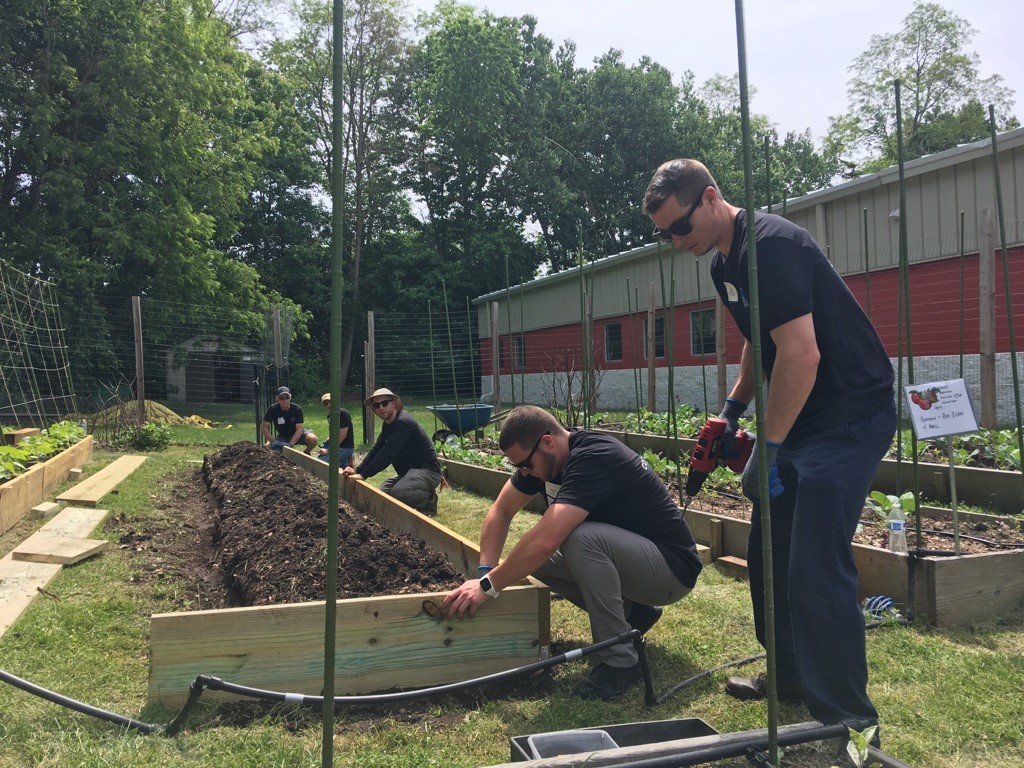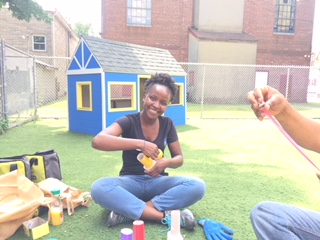 ---
Panasonic Working Toward " A Better Life, A Better World"
Panasonic was back at it again! On May 21st, 25 employees visited Luis Muñoz Marin Middle School located in the North Ward of Newark, New Jersey. Volunteers worked to revitalize outdoor spaces, which are critical to childhood development, creating raised flower beds, picnic tables and benches. The transformation was completed with plantings and creation of blacktop line games, encouraging children to PLAY! Later that week on May 24th, 25 more volunteers from Panasonic dropped in on Lincoln School in the West Ward of Newark. Volunteers focused on enhancing outdoor spaces with murals and picnic tables to create outdoor areas for students to eat, play and socialize. Thanks Panasonic, for continuously "moving forward to create a better community for all of us."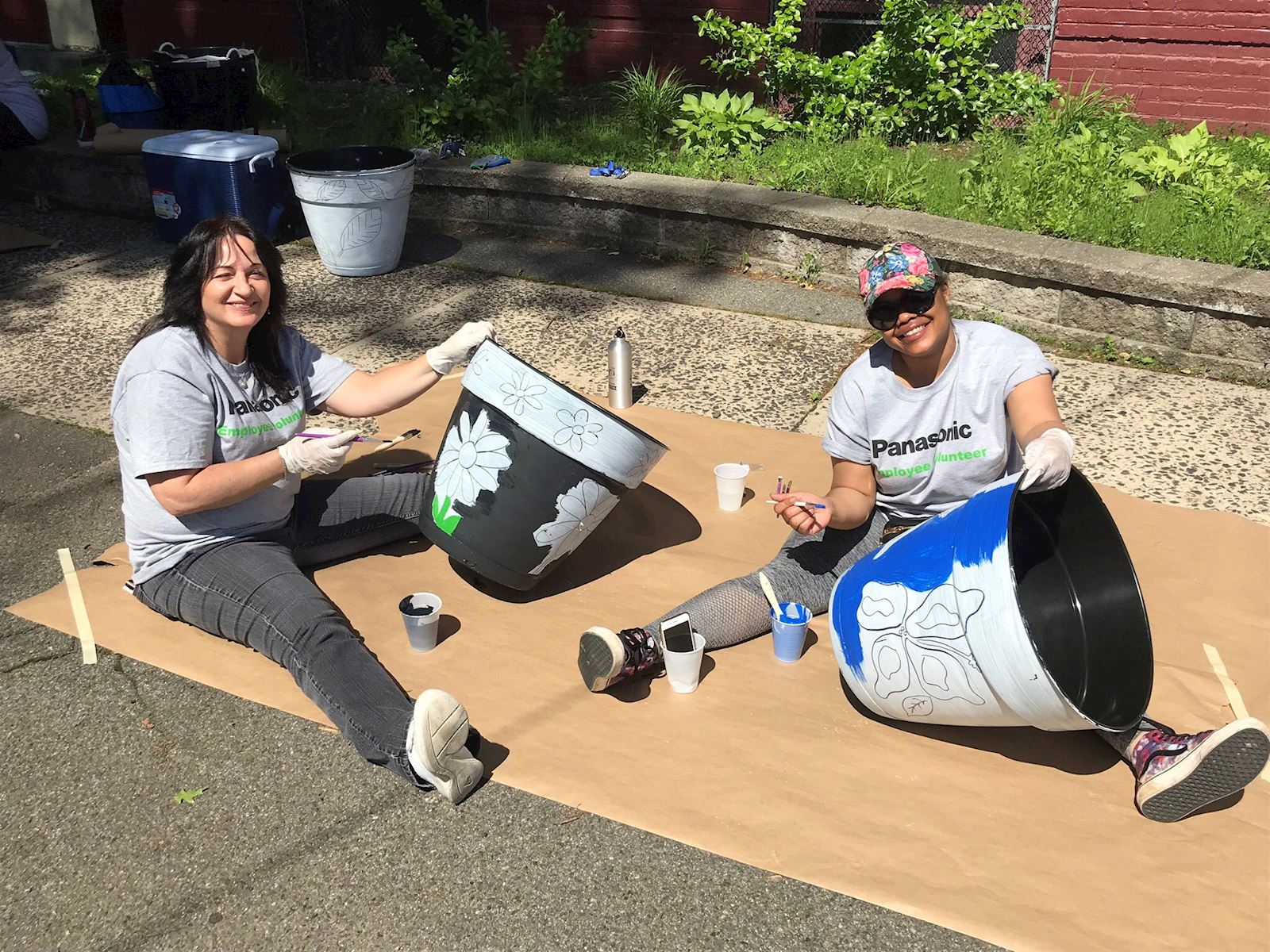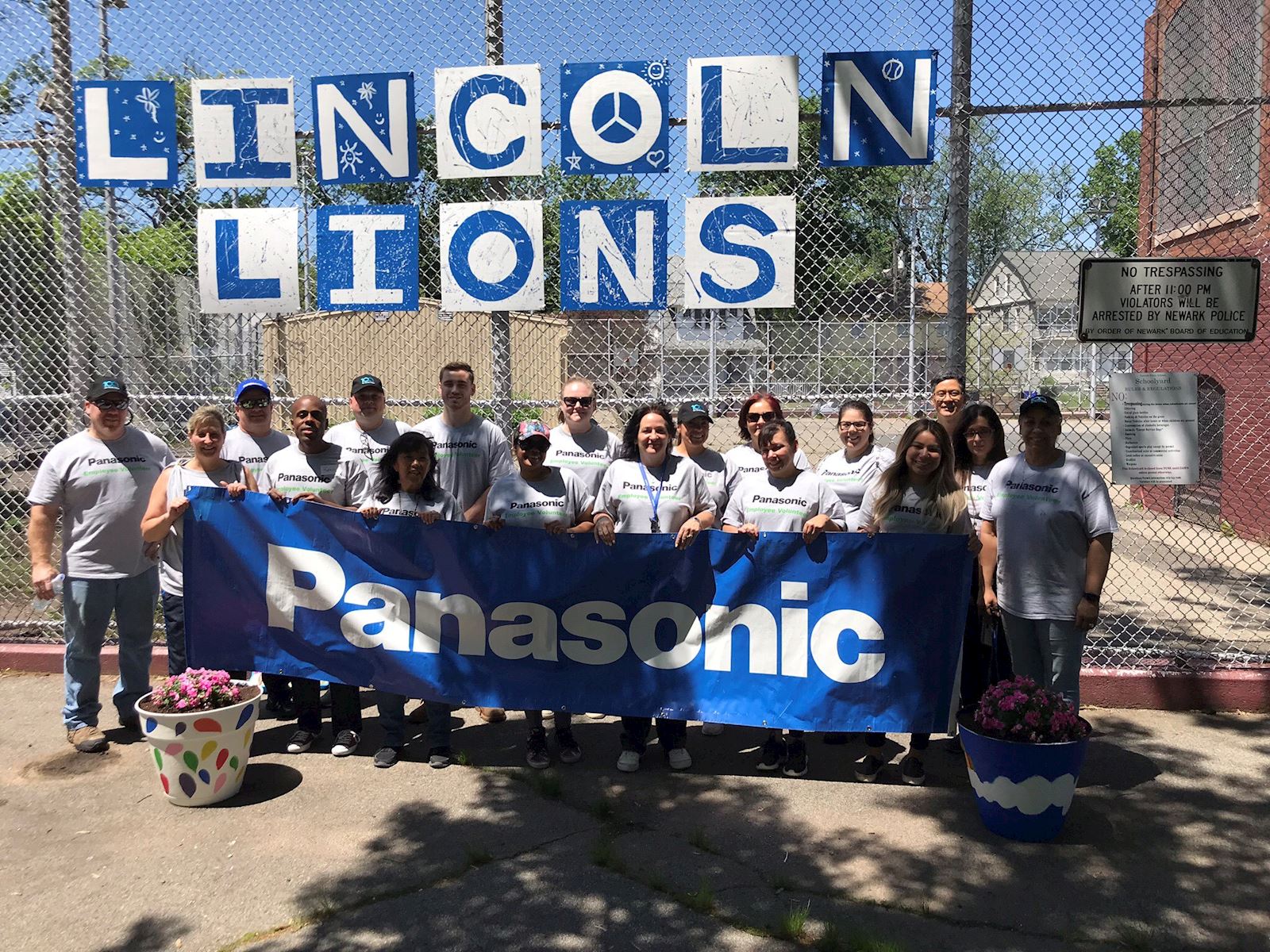 ---
Pfizer Restores the Reservation
Pfizer volunteers were on a roll last week! Completing their second event in 3 days, 40 Pfizer employees set their sights on reestablishing some of the natural beauty of the South Mountain Reservation. Over 100 years ago, two men known as the Olmsted brothers designed various trails, and footbridges all throughout the Reservation. Since its creation the general structure of these paths has been gradually deteriorating. Human litter is one cause of this. Keeping the lungs of our planet (rainforests and reservations) clean is incredibly important due to their release of oxygen into our atmosphere. Pfizer volunteers spent part of the day scrolling up and down the walkways collecting as much trash as possible, and appropriately disposing of it. Although garbage undoubtedly hurts the health of the nature in the Reservation, the major blame for the deformation of these pathways can be placed on mother nature. With no upkeep of the trails, things across the spectrum such as invasive plants and snowy weather play a role in their breakdown. As a result, volunteers spent their day removing destructive plants, replacing them with native plants, and restructuring the paths using shovels and woodchips. Thank you, Pfizer, for helping restore Essex County's beautiful wilderness and keeping our forests clean!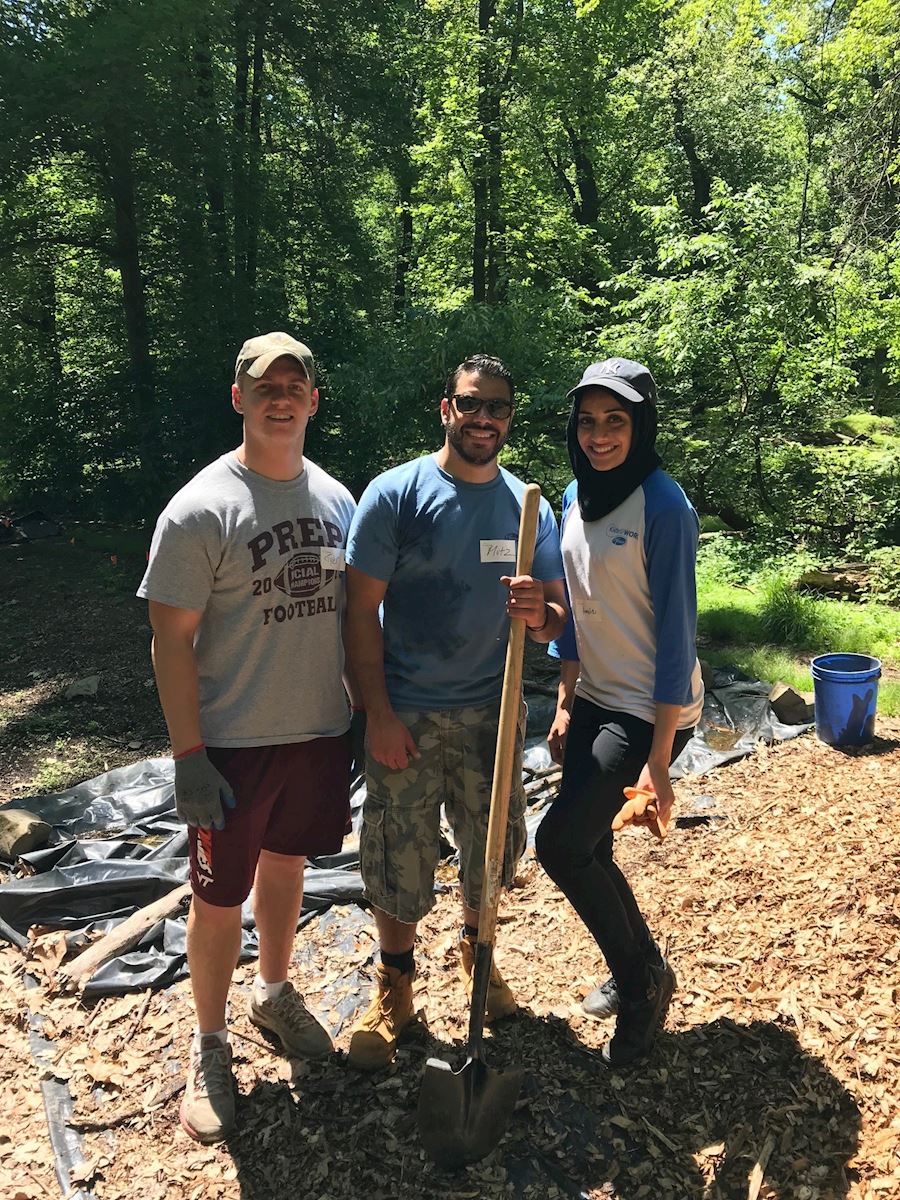 ---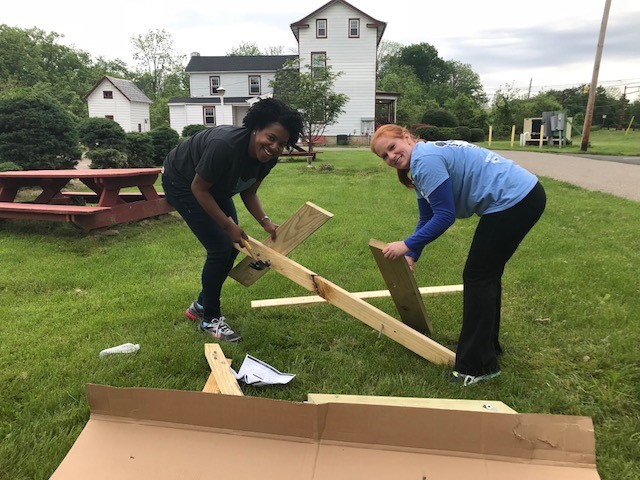 Pfizer Refreshes the Good News Home for Women
Pfizer employees took their committment to "innovate to bring therapies to patients that significantly improve their lives" out of the office and into the community last week, supporting the Good News Home for Women. These patients are striving to improve their health and free their lives from addiction and creating a more attractive and tranquil setting at this location is just what the doctor ordered. 40 Pfizer volunteers brightened up the landscape of the property by planting gorgeous flowers and removing weeds, while spreading mulch to keep the soil moist and the garden bed visually appealing. On top of this, volunteers added to the landscape by assembling beautiful new picnic tables and Adirondack chairs! With all the help from the volunteers, the patients at the Good News Home for Women are now able to carry on their recovery in a more tranquil and attractive environment. Thank you, Pfizer!
---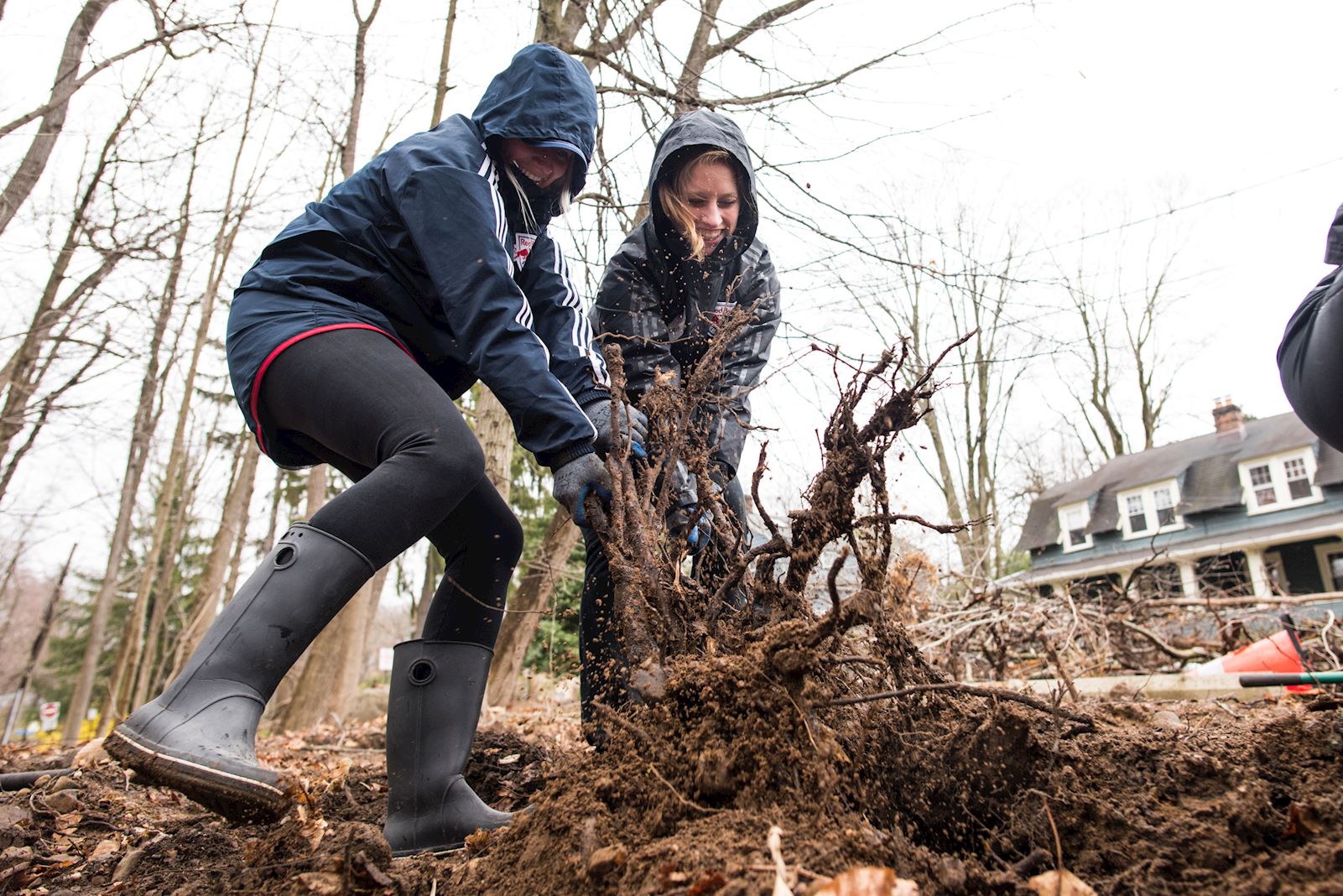 New York Red Bulls Take On Grover Cleveland State Park
For most people, waking to a rainy forecast calls for a long nap, cozying up to a good book, and longing for the sun to peek out so they can step out and finally enjoy the day. For the New York Red Bulls, however, it's an opportunity to seek out puddles and make a SPLASH volunteering at the Grover Cleveland Park Conservancy in Caldwell! Working in partnership with Bayer, the NY Red Bulls made the most of the day by mulching around cherry trees, building raised garden beds for visitors to enjoy, and removing dilapidated bushes to make room for new plant-life to flourish.
Their efforts were a part of the Red Bull's 2018 Week of Service, where they take their love for athletics and channel that energy into giving back to their local community. Although their work only spanned the day, the park staff at Grover Cleveland Park (GCPC) could not be more grateful. Without the goodwill of the Red Bulls & Bayer, it would take the park staff weeks to complete what these spirited volunteers accomplished over the course of a single day. With this project occurring at the heels of Earth Day on April 22nd, these volunteers truly demonstrate the good we can do when our community comes together to care for its local parks. Thank you, Red Bulls & Bayer!
---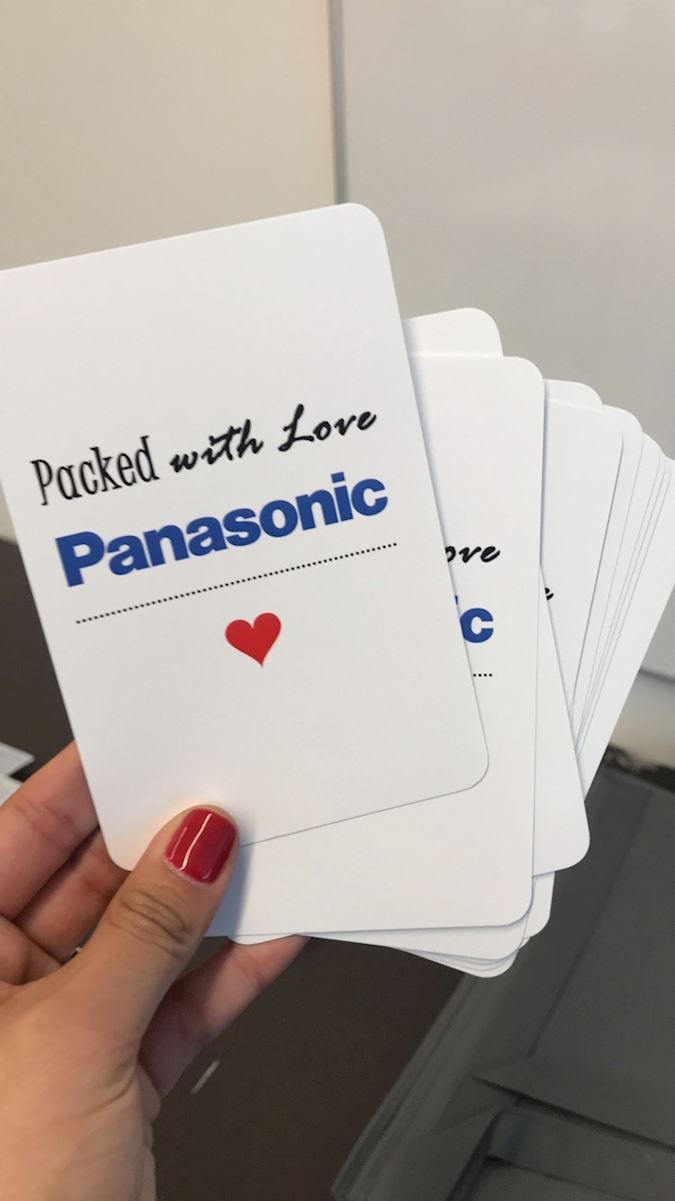 Panasonic - Packed With Love
Panasonic, located in downtown Newark, is a corporation that believes in the city of Newark and its hard-working residents. This past February, 64 Panasonic employees rallied together to provide necessary resources to men and women who are struggling. Working hand-in-hand, these employees packed hygiene kits filled with soap, deodorant, toothbrushes, winter hats, and other items to provide support for clients of the GoodWill Rescue Mission, a nonprofit organization that provides life-saving care and hope to the underserved and homeless in Newark and Northern New Jersey.
Panasonic employees also chipped in a little bit more of their time to create no-sew blankets to keep individuals warm during cold winter nights. Newark has made significant strides forward in the past several decades and it's companies like Panasonic that continue to push the city to greater heights. Thank you, Panasonic, for promoting progress and volunteerism within Newark!
---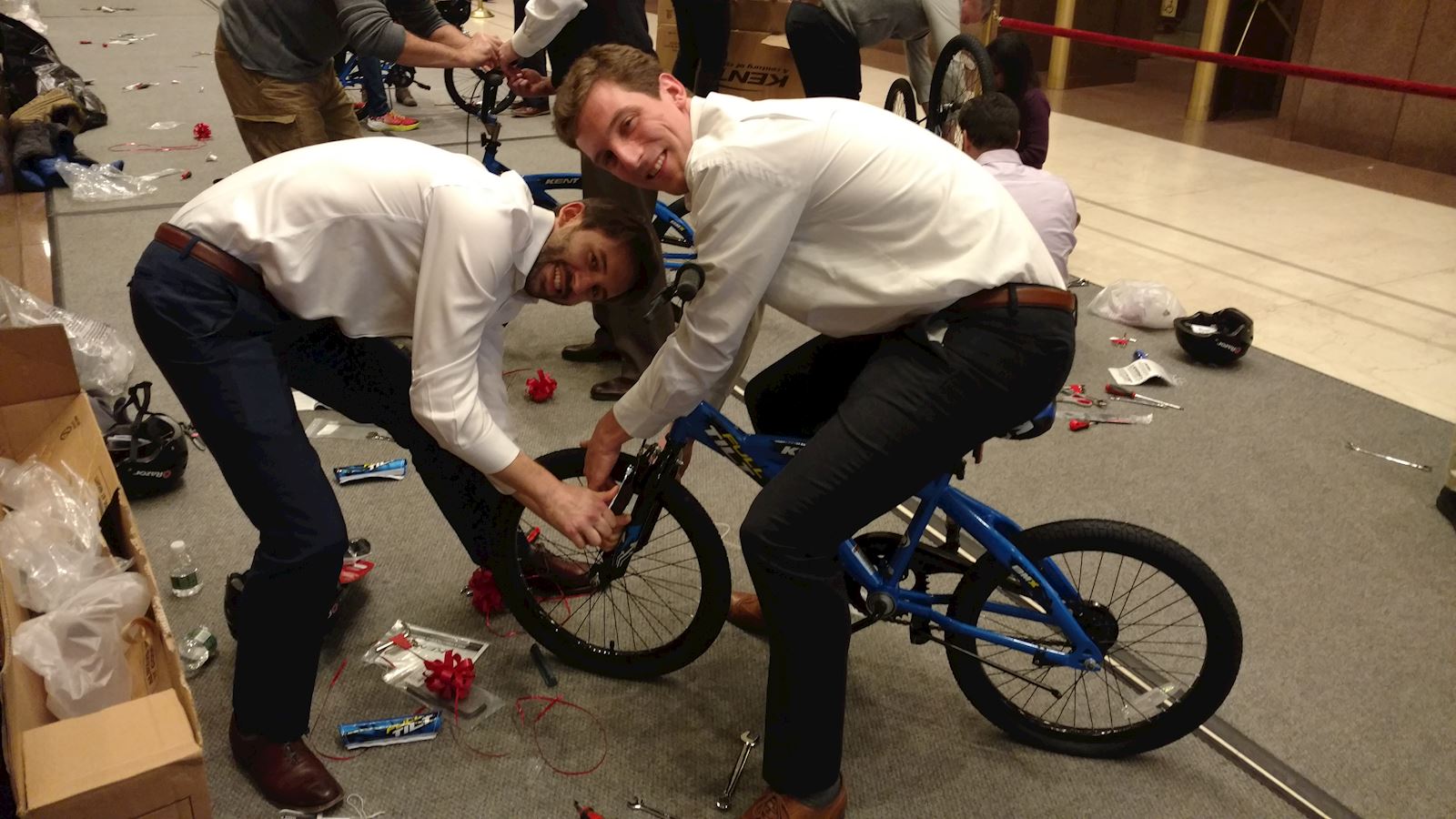 BNP Builds Bikes for the Holidays
For many people, the holidays are a time to give back to the community, and BNP Paribas is doing just that. Thanks to their generosity, the holidays will come early for 325 children at numerous non-profits in the New York/New Jersey area when they are gifted with brand new bikes of their own! While bike building definitely does not fall under their job description, volunteers were committed to becoming bike mechanics for the day. It was truly an amazing sight to see – watching a pile of parts transform into a fleet of shiny new bicycles. With the help of our amazing partners from The Bike Store, each bike is meticulously inspected to ensure that they last for years to come. Thank you, BNP Paribas, for another year of spreading holiday cheer!
---
Alexion's Global Day of Service
Early this November, Alexion Connecticut-based employees joined their colleagues from around the world in the company's 2017 Global Day of Service. Over 240 dedicated individuals banded together to leave a lasting impact in their local community. Although it was one of the coldest days we've had this season, volunteers spent their time both indoors and outdoors at Celentano Biotech, Health, and Medical Magnet School and the Wallingford Emergency Shelter, a program of Columbus House.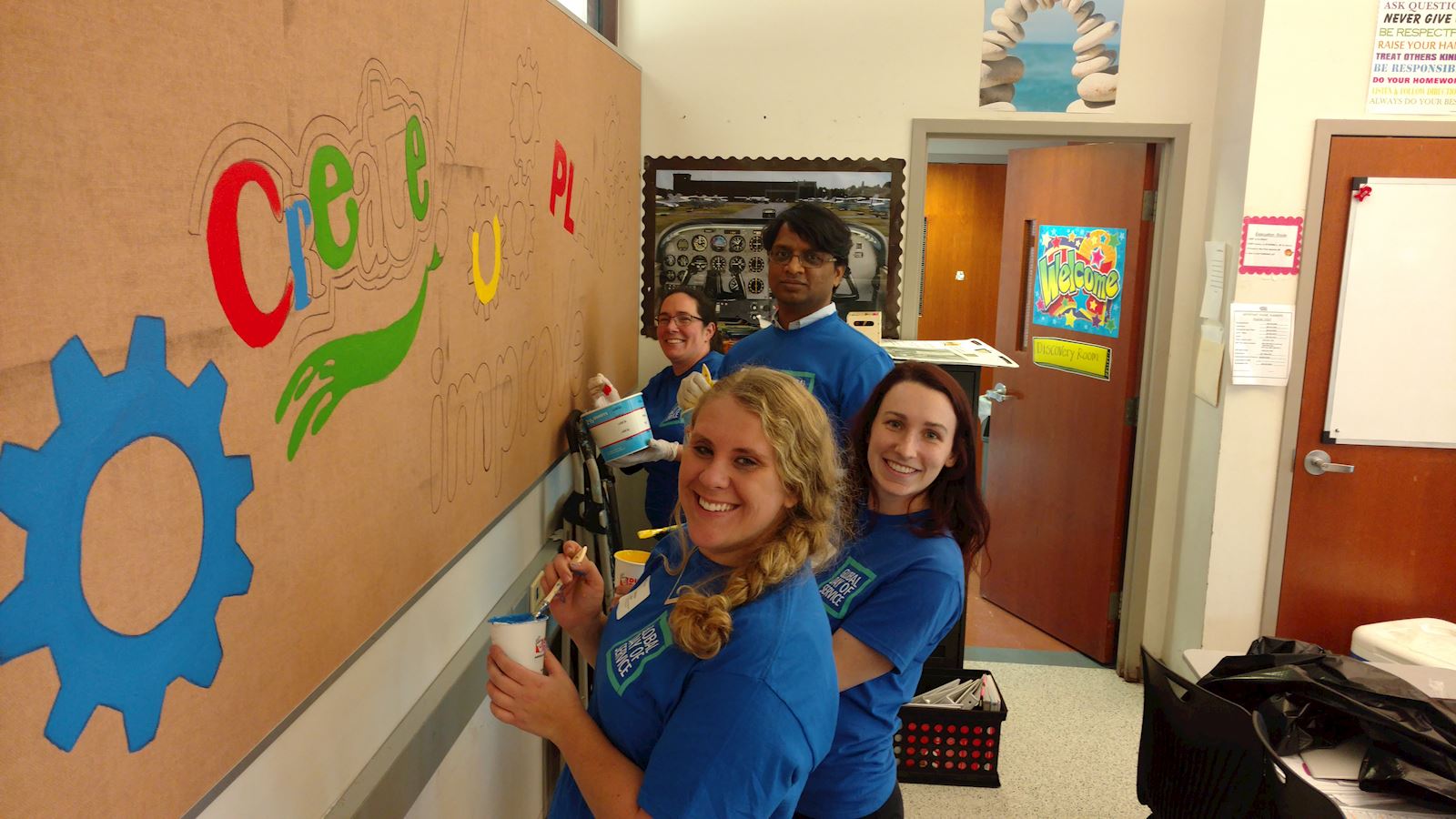 Outdoors at Celentano, volunteers were hard at work building benches and picnic tables to create outdoor learning spaces, bringing new life to the line games on the toddler playground, installing a music wall to encourage creativity during recess, and laying fresh mulch to help the new plants thrive during the cold season. Indoors, volunteers spent their day engaging over 500 students in educational workshops, painting countless murals around the building, and transforming a room into a calming space for students with behavioral issues. Students and teachers alike were amazed at the work that was done in just one day. Over at the Wallingford Emergency Shelter, volunteers assisted in preparing the shelter for their seasonal opening. Alexion volunteers were laying down vinyl flooring and painting murals to create a welcoming entryway, building storage shelving, and putting a fresh coat of paint on the walls of the bathrooms. Outdoors, they were lending some TLC to the landscaped spaces in the front of the building and painting the awning. Volunteers assisted even further by creating hygiene kits and blankets in their offices that will be distributed to individuals as they enter the shelter in an effort to make their first night more comfortable. The Wallingford Emergency Shelter is now in tip-top shape and ready to serve the area's homeless population! Overall, it was apparent to anyone who witnesses the day's events that these volunteers were dedicated to making a difference in their community and in turn the day was a huge success! Thank you, Alexion!
---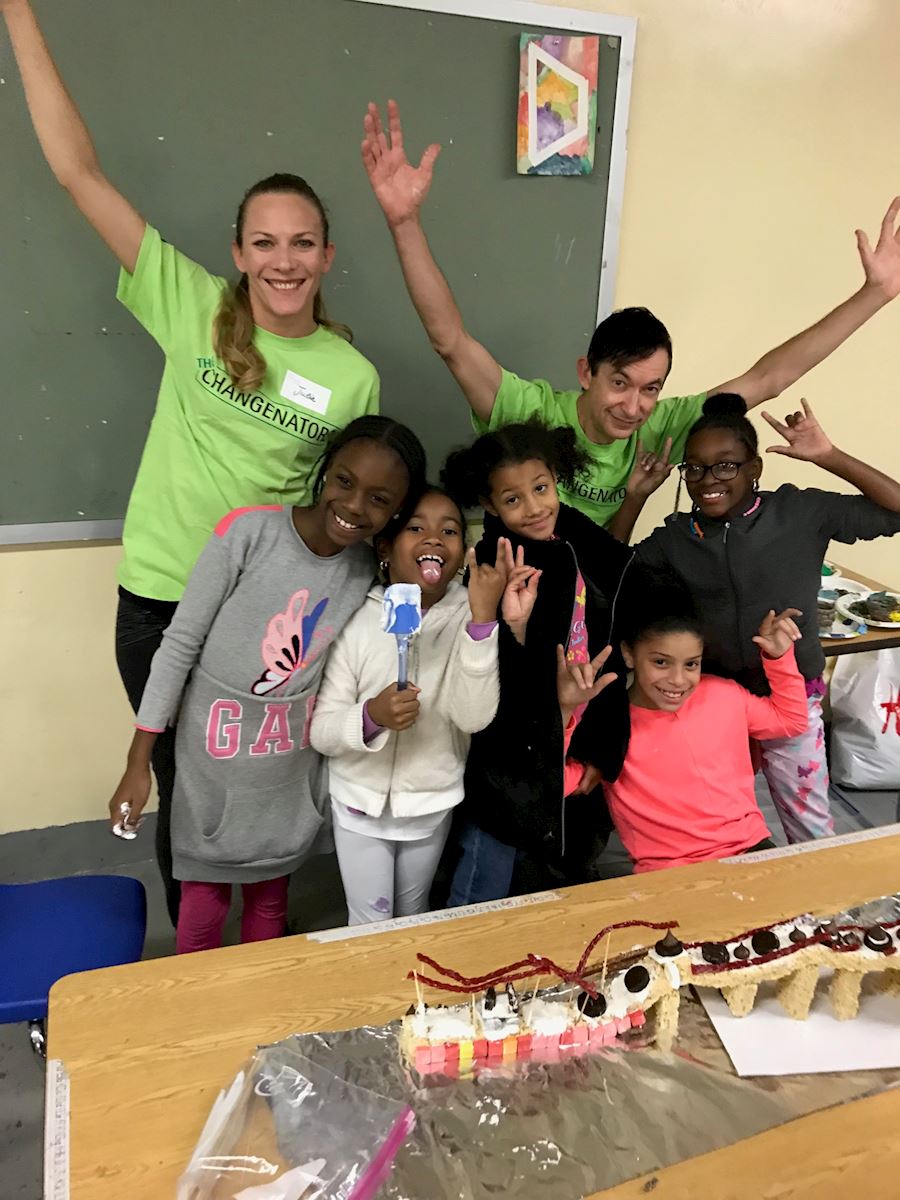 BNP Gives Back through Volunteer Week
Being a true champion of change means pushing yourself to the limit for the greater good. This October, the employees of BNP Paribas exemplified this mentality by completing 8 volunteer projects in one week! Volunteers traveled across the state, visiting schools, camps, parks, and farms to make a positive impact. Change was visible everywhere they went. At local schools, colorful line games transformed blacktops into kid-friendly play spaces, interactive workshops fostered the importance of STEM and created positive relationships for students, and furniture was built to create more inviting places to learn. Volunteers at Camp Liberty transformed a room into a pirate ship for their annual Fall Celebration, all while completing Fall landscaping and adding pops of color by planting mums. At Liberty State Park, volunteers raked leaves, planted seasonal flowers, and prepared the garden areas for the season. Volunteers also took a trip to City Green where they harvested crops and painted new murals in the goat pens! BNP even took a group of students to the National Museum of Mathematics in an effort to get students excited about learning outside of the classroom! Throughout the week, these volunteers showed that they were dedicated to being champions of change, and for that the community is forever grateful. Thank you, BNP Paribas!
---
Fidelity Transforms Jersey City School
Fidelity volunteers were dedicated to making their first Transformation Day at PS 24 a great one! New benches, picnic tables, fresh flowers, and a fence cup mural created a beautiful and inviting garden space for the entire community. A small plot next to the school was also weeded and raked in preparation to become an outdoor learning area for students. Inside, country flags that represent the students' nationalities, were painted and hung in the windows of classrooms, and the main stairwell now exudes school pride thanks to freshly painted maroon and gold glass panels.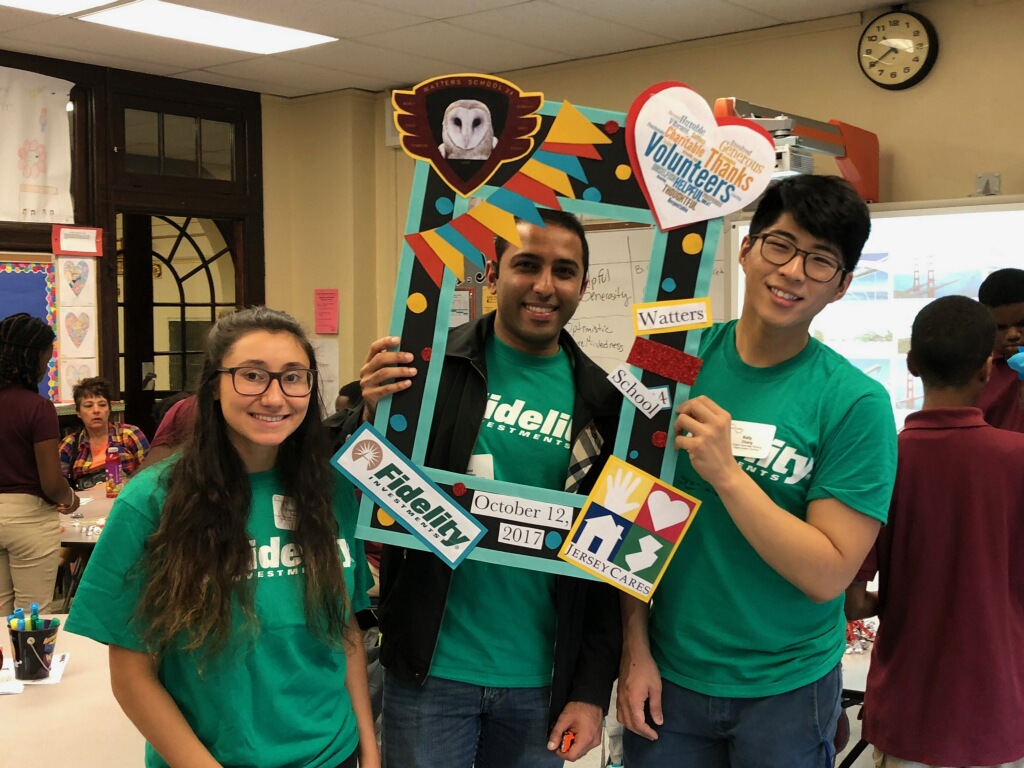 The Champ's Corner – a room used for students with learning disabilities – became a safe and calming multi-sensory space with tables, chairs, standing desks, and other materials to help children self-manage their behavior. Perhaps most importantly, a strong connection was made with students during Chocolate Bridge Building, Balloon Rocket, and 3-Doodler Workshops. Not only did students have fun and learn about STEM, but they are already looking forward to next year!
---
Kicking Off Bayer's National Community Service Day
Bayer volunteers participated in the company's first National Community Service Day by simultaneously volunteering at three different sites. Employees typically spend their days making innovations in areas like health care and agriculture, so it's no surprise that they wanted to do the same in their community. Volunteers made a commitment to impact people, pets, and plants in continuation of their mission of "Science For A Better Life." They made a positive impression on the Paterson School 2 community, building picnic tables, working with the students, and transforming their staff lounge.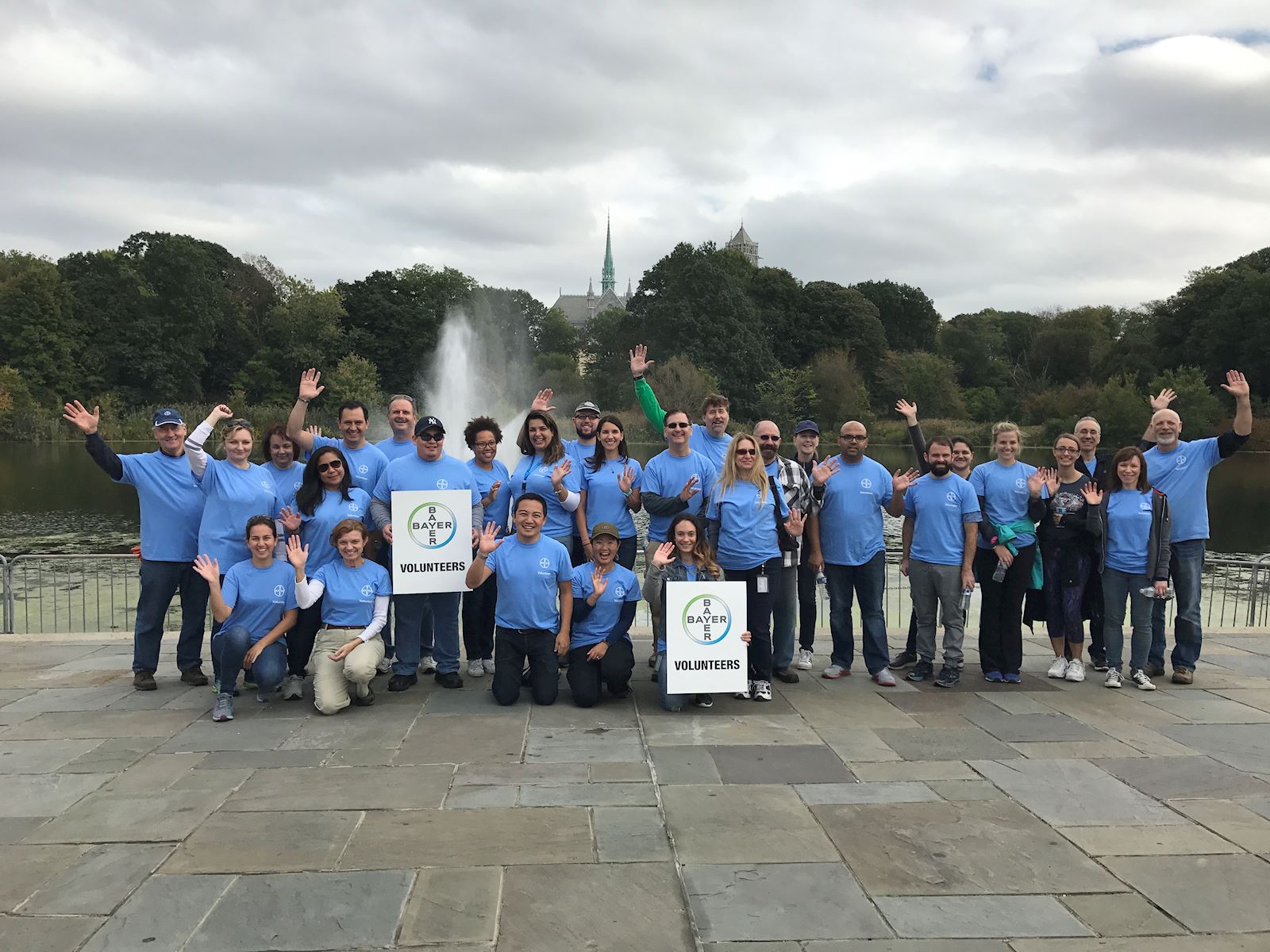 Volunteers made the school a brighter, happier space for students and staff alike! For our furry friends – volunteers hand-crafted toys, beds, and food bowls. Tails were wagging when the items were donated to St. Hubert's Animal Welfare Center! Spending their time outdoors, volunteers at Branch Brook Park assisted with weeding, mulching, pruning, and the removal of invasive species along the waterfront. It was a beautiful day for some beautification!
---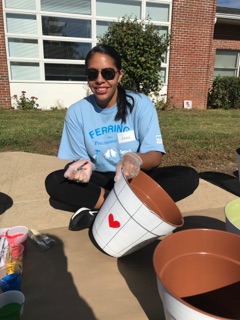 Ferring Pharmaceuticals Lends Some Love
Many children living in the Morris County Youth Shelter are escaping crisis situations and do not know how long their stay will be. Ferring Pharmaceuticals' goal was to make the shelter look a little more like "home" and by the end of the day, there was a remarkable difference. Volunteers took great care in their work, painting colorful images on planters and transforming the front entrance of the shelter with fresh flowers and mulch. It is amazing how a little TLC goes a long way, and these volunteers came with a lot of love to share! They went above and beyond to ensure that each child who enters the building feels welcome. Thank you, Ferring Pharmaceuticals!
---
Celebrating the 10th Anniversary of Eli Lilly's Global Day of Service
Once every year, Eli Lilly employees around the world come together to act upon a common desire to serve the local schools, parks, and non-profits that form the backdrop of their local communities. Ceremonially shedding their lab-coats for bright-red t-shirts, these hard-working professionals took their raw passion of helping create life-saving medications and channeled that feeling into providing a meaningful and lasting impact into classrooms and hospitals alike.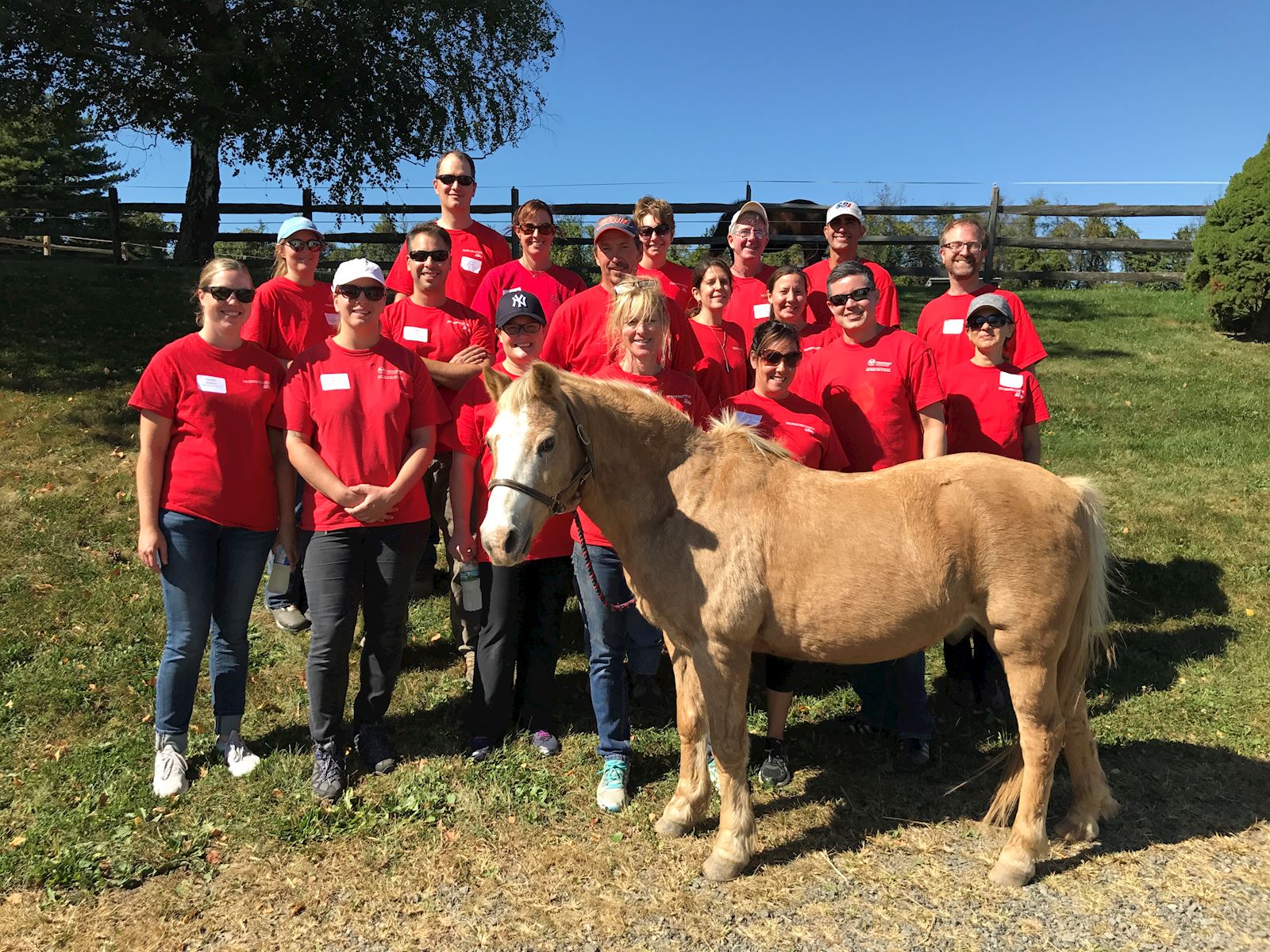 Through their efforts, upwards of 400 Eli Lilly employees living and working in New Jersey volunteered at 13 different agencies simultaneously to create one of the most successful and impactful days of service in their 10 years of giving back. While we can physically see the impact of their work through the picnic tables they created at The Arc of Middlesex County or the beautiful flowers volunteers planted at Hunterdon Medical Center, the emotional significance cannot be overlooked. The smiles they brought to children as they read stories at MacAfee Road School or the feeling of wonder and excitement students at Conackamack Middle School experienced when creating cars running solely on the power of the sun are just a few of the priceless moments that make days like these so important. Although their efforts only spanned one day, the work Eli Lilly did to improve their community will go on to be remembered by the children and agencies they helped for years to come. Thank you, Eli Lilly!
---
Dental Care Cares for the Environment
Dental Care's Bridgewater employees weren't afraid to get a little dirty when they took the morning off to help out at the Environmental Education Center. Volunteers made sure that the entrance to the 9 miles of trails were cleaned up and weeded, spread wood chips in the arboretum, and helped to remove non-native plants. They also planted native trees, organized the library, and cleaned the EEC's brand-new The Great Swamp Exhibit. Their hard work will be enjoyed by numerous visitors in the upcoming season. Thank you, Dental Care!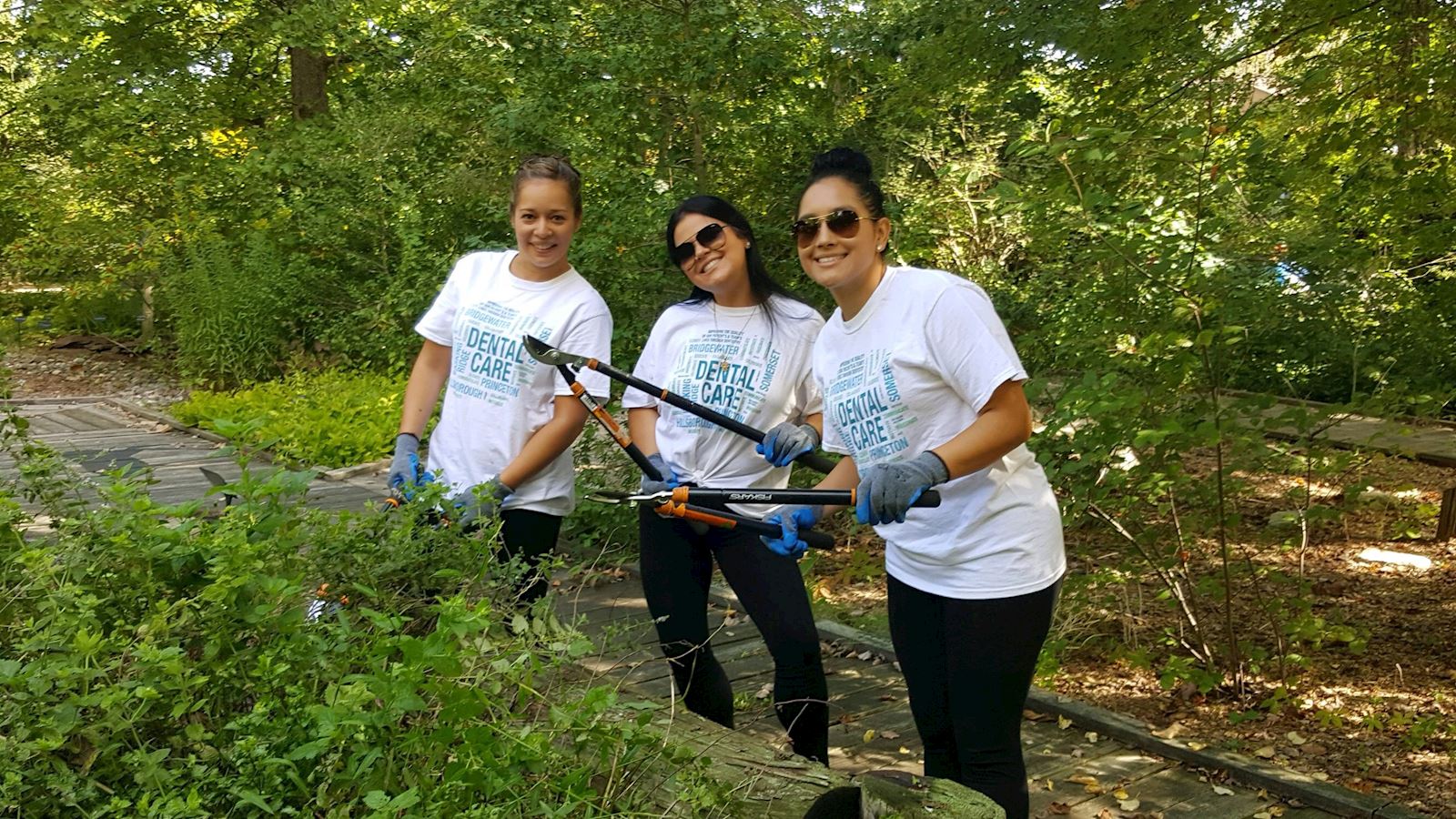 ---
Supporting Veterans with UBS
For veterans, life after the military can be challenging and having a place to gather together can often ease that transition. Employees from UBS volunteered their time to give back to the heroes who have given everything to serve their country at VFW Post 2294, the only remaining VFW in Jersey City. To celebrate their sacrifices, volunteers decided to bring some color to the building's faded exterior, painting a beautiful American flag on the outside wall. UBS didn't stop there, they also worked together to assemble Veterans Hope Packs, complete with basic toiletries and hand-made no-sew fleece blankets to be donated to homeless veterans. Thank you UBS!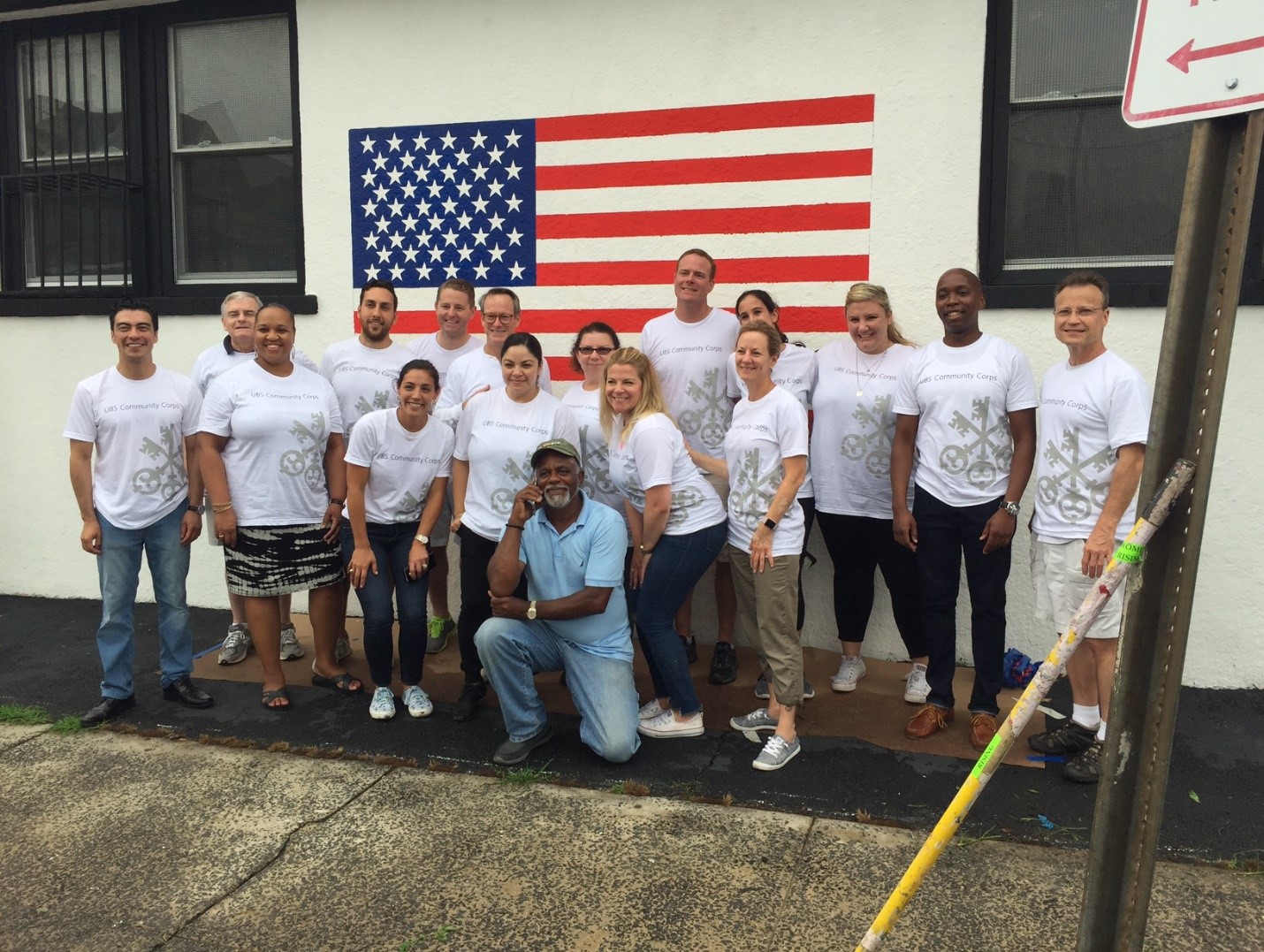 ---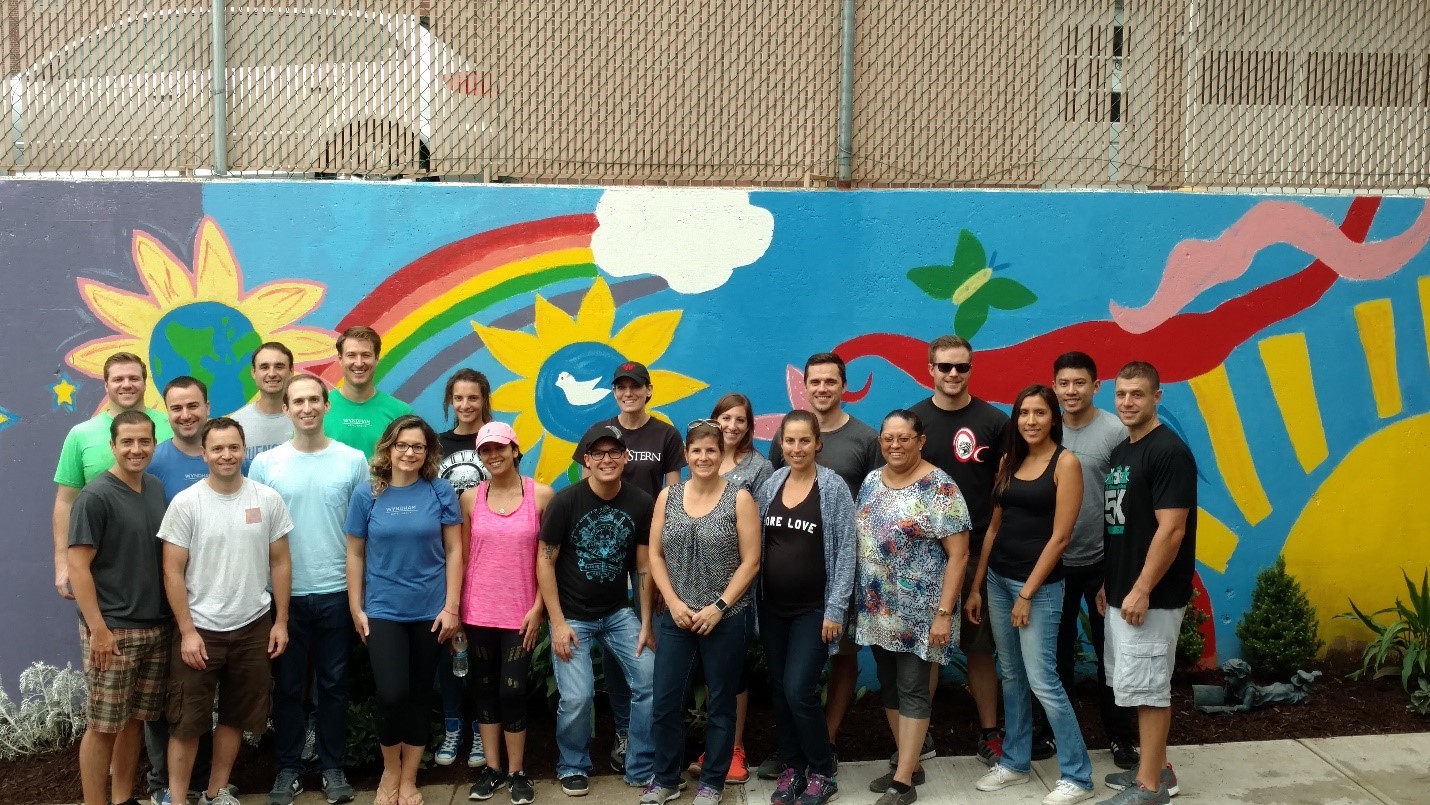 Wyndham Hotel Group Breathes Life into Deirdre's House
Taking a break from playing hosts to countless weary travelers, employees from Wyndham Hotel Group decided to close their hotel doors and devote their morning to sprucing up Deidre's House for abused and neglected children in Morristown. Eager and ready to serve, these volunteers took it upon themselves to ensure the agency's children come back to a brighter and more inviting place by giving their backyard a much-needed facelift.
Armed with paintbrush and power drills, volunteers got to work building picnic tables, giving new life to an unstained fence, painting a fresh coat of paint to a faded shed, planting beautiful flowers and painting planter murals to help Deirdre's House look as welcoming as possible to incoming children. Thanks to Wyndham's selfless volunteers for helping make Deidre's House feel like a home away from home!
---
UBS Has a Successful Season of Service
Many would agree that summer is the best season of the year. Great weather, the beach, wearing shorts, and vacations are all reasons we love the summertime. However, for UBS volunteers, summer is meaningful for a different reason. From June-August in 2017, more than 200 UBS volunteers participated in 16 different service events as a part of their "Season of Service" initiative. Click here to read more about their impact! These volunteers painted walls, led workshops with children, assembled furniture, planted flowers, and much more to help benefit public schools, veterans organizations, community centers, public parks, and many other types of nonprofit partners around North Jersey and Hudson County. It was very impressive to not only see UBS volunteers dedicating their time to help out their local communities, but to also see them benefiting a variety of organizations that work with a wide demographic of people. Thank you, UBS for dedicating your summer to helping those who need it the most.
---
Dental Care Puts Smiles on Students' Faces
Even a solar eclipse couldn't stop Dental Care from brightening the lives of others! Volunteers worked with a local community center, landscaping, making summer time crafts and leading an interactive STEM workshop with the students, assembling activity bags, and more. Thanks to their hard work, the students enjoyed another great day at camp. Thank you, Dental Care!
---
CommVault Works with local Boys and Girls Club
It was CommVault's first experience volunteering through Jersey Cares and, according to the volunteers, it was a hit! The volunteers worked at a local after school program, assembling snack bags for students, hosting a "photo booth" activity, and more. There was nothing more satisfying for the CommVault volunteers than to see the smiles on all the children's faces. Thank you, CommVault!
---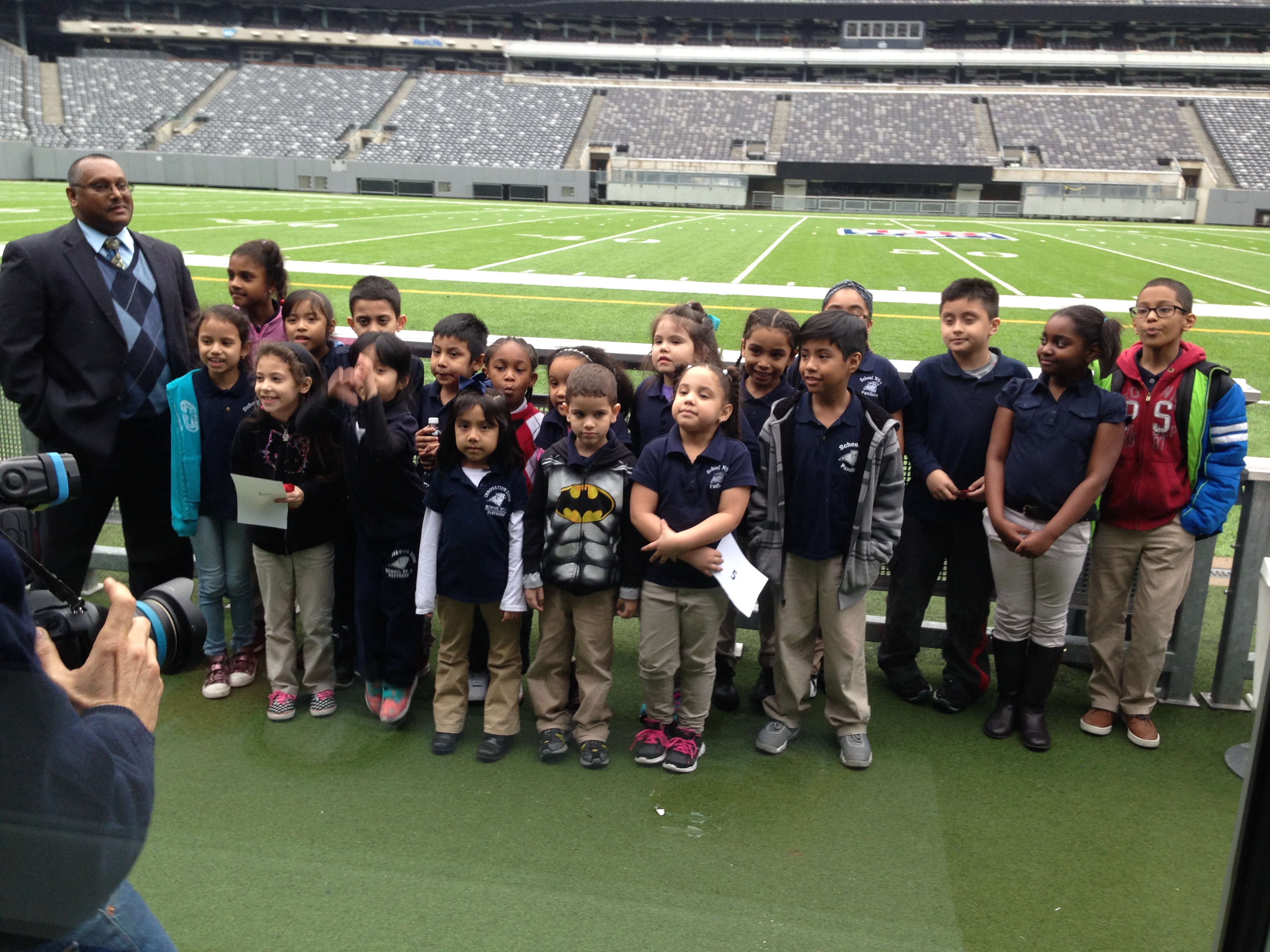 MetLife Builds Bikes for Kids
It was a special occasion for students from a public school in Paterson, NJ as they were invited to MetLife Stadium by MetLife employees for an intimate tour of the stadium. Little did they know, employees from MetLife not only were going to give the students a tour, but they had also assembled brand new bicycles to give away to each of the students. When the children met the MetLife employees and found out they were getting bicycles, pure joy ensued. Thanks to the partnership of MetLife and Groove Management, these kids will enjoy their new bicycles for years to come. Thank you, MetLife!
---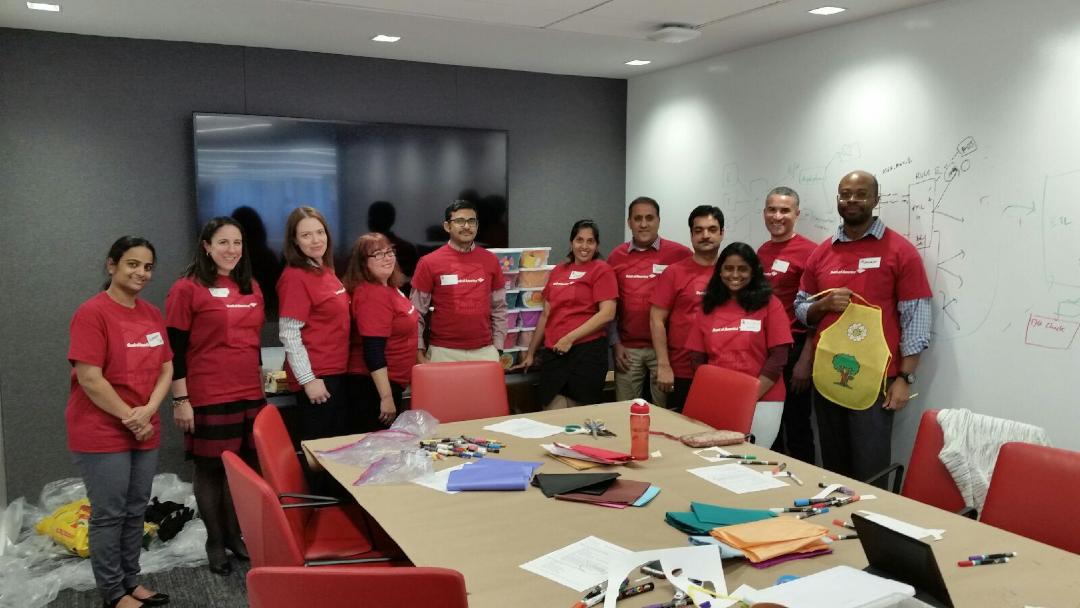 Bank of America prepares for Spring
Believe it or not, Spring is right around the corner! What better way to prepare local students for Spring than by creating garden kits? Bank of America was certainly up to the task (and frankly they were just sick of the winter). These garden kits included items like seeds, a hand shovel, and other items to help cultivate a sense of environment in these young students. Thank you, Bank of America, for helping bring in the Spring for these students!
---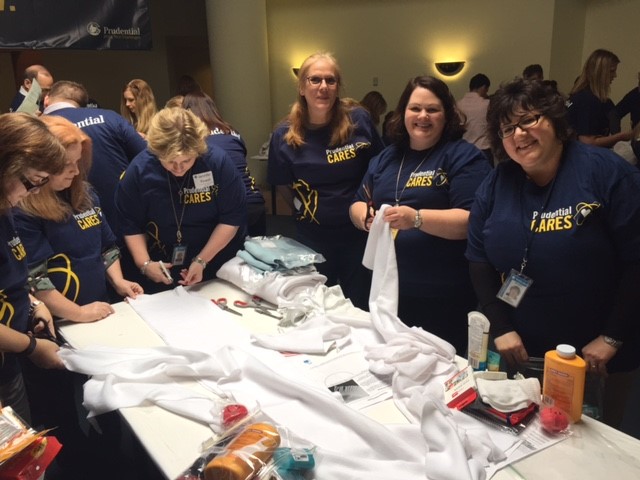 Prudential Provides Hope to Veterans
When it comes to serving our veterans, no one does it like Prudential. Prudential is so passionate about serving our veterans that they created hundreds of "Veterans Hope Kits," designed for homeless veterans. These kits provide basic toiletries and clothes for homeless veterans including soap, blankets, gloves, toothpaste, and much more. Thank you, Prudential, for thinking of the veterans who sometimes are forgotten and need an extra hand in this world.
Learn how your company can get involved.
The Windows update prank can easily trick someone when opened in full screen. It looks and acts like a real install page.