C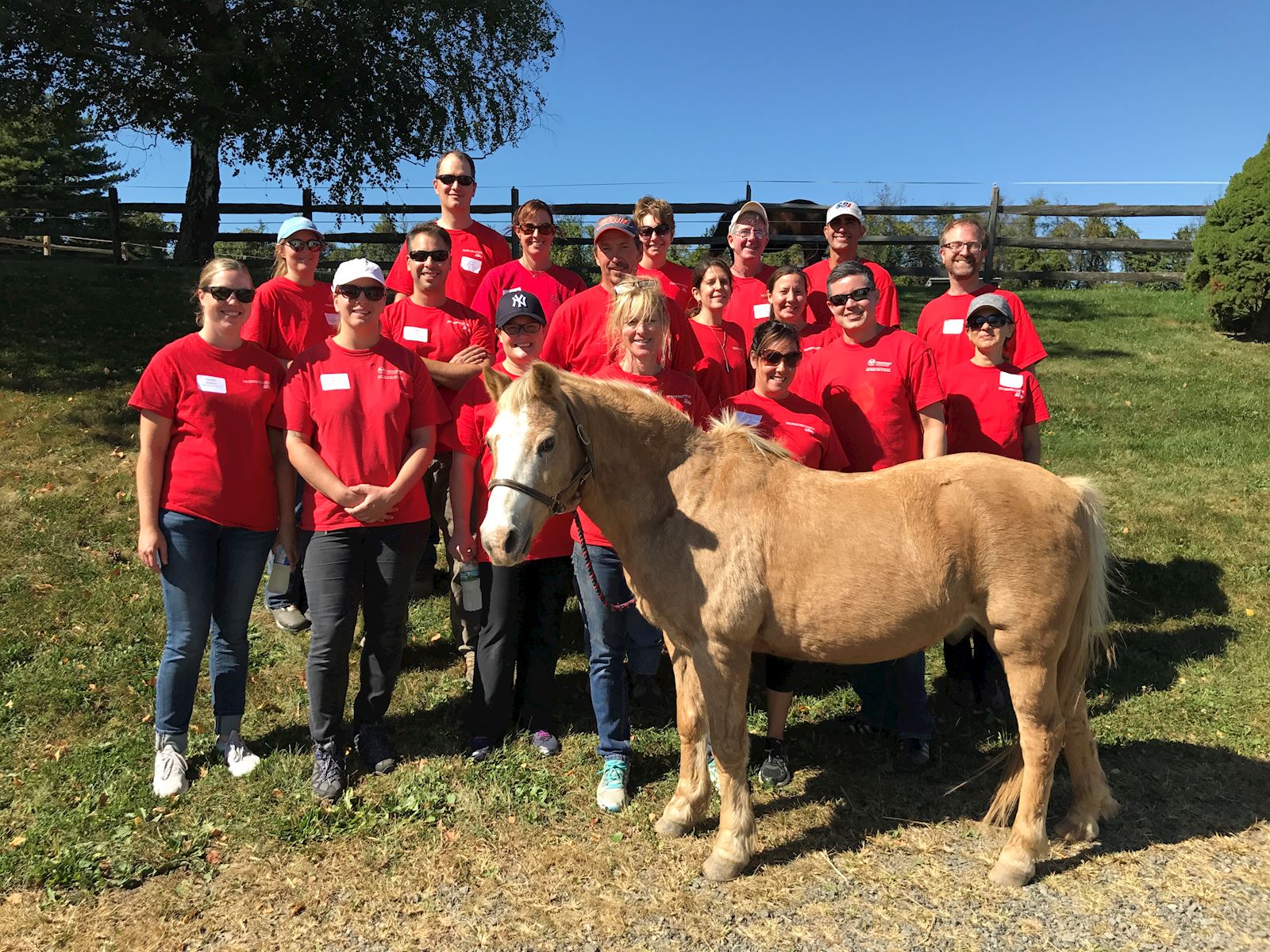 elebrating the 10th Anniversary of Eli Lilly's Global Day of Service
Once every year, Eli Lilly employees around the world come together to act upon a common desire to serve the local schools, parks, and non-profits that form the backdrop of their local communities. Ceremonially shedding their lab-coats for bright-red t-shirts, these hard-working professionals took their raw passion of helping create life-saving medications and channeled that feeling into providing a meaningful and lasting impact into classrooms and hospitals alike. Through their efforts, upwards of 400 Eli Lilly employees living and working in New Jersey volunteered at 13 different agencies simultaneously to create one of the most successful and impactful days of service in their 10 years of giving back. While we can physically see the impact of their work through the picnic tables they created at The Arc of Middlesex County or the beautiful flowers volunteers planted at Hunterdon Medical Center, the emotional significance cannot be overlooked. The smiles they brought to children as they read stories at MacAfee Road School or the feeling of wonder and excitement students at Conackamack Middle School experienced when creating cars running solely on the power of the sun are just a few of the priceless moments that make days like these so important. Although their efforts only spanned one day, the work Eli Lilly did to improve their community will go on to be remembered by the children and agencies they helped for years to come. Thank you, Eli Lilly!
---
Dental Care Cares for the Environment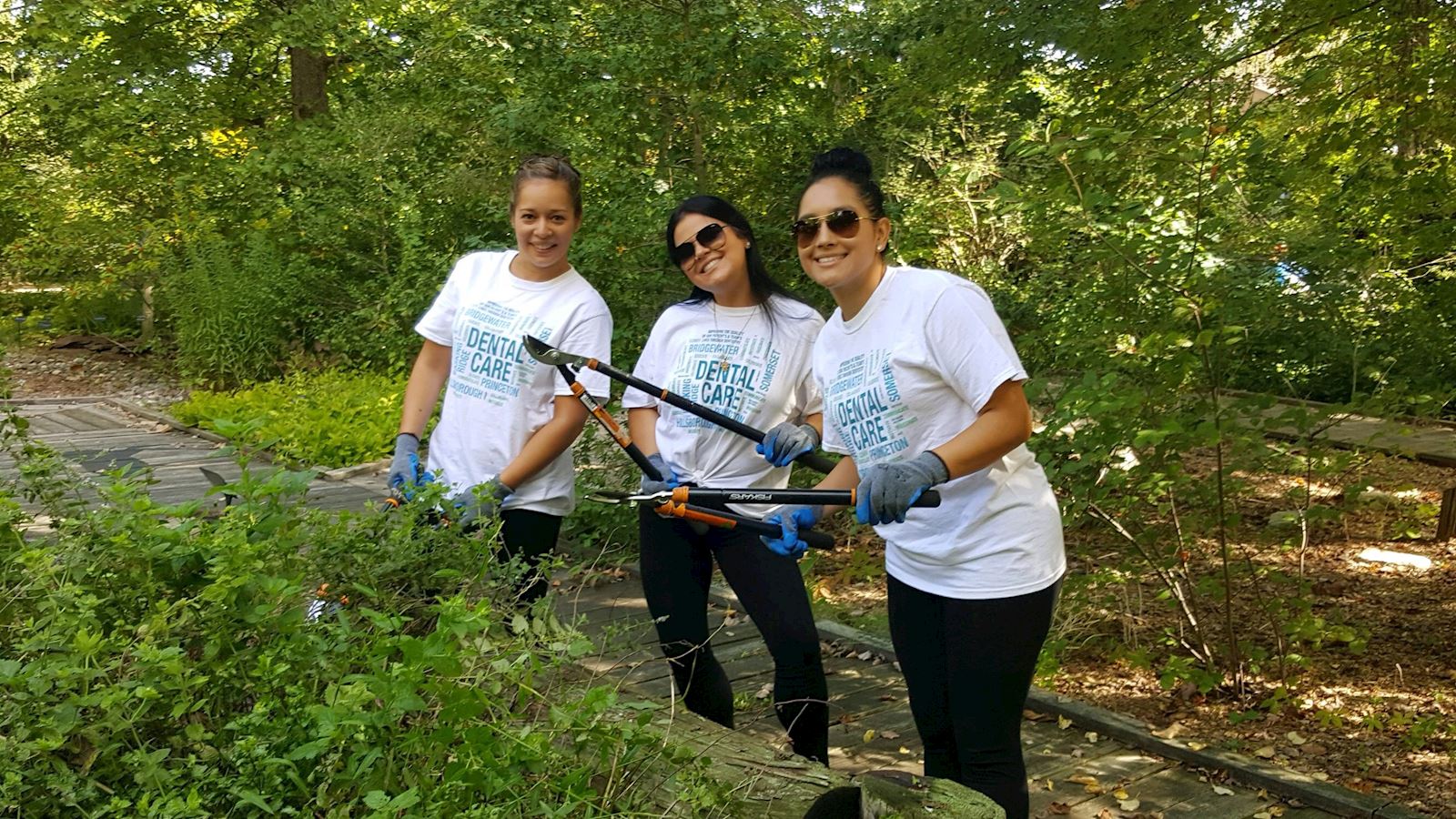 Dental Care's Bridgewater employees weren't afraid to get a little dirty when they took the morning off to help out at the Environmental Education Center. Volunteers made sure that the entrance to the 9 miles of trails were cleaned up and weeded, spread wood chips in the arboretum, and helped to remove non-native plants. They also planted native trees, organized the library, and cleaned the EEC's brand-new The Great Swamp Exhibit. Their hard work will be enjoyed by numerous visitors in the upcoming season. Thank you, Dental Care!
---
Supporting Veterans with UBS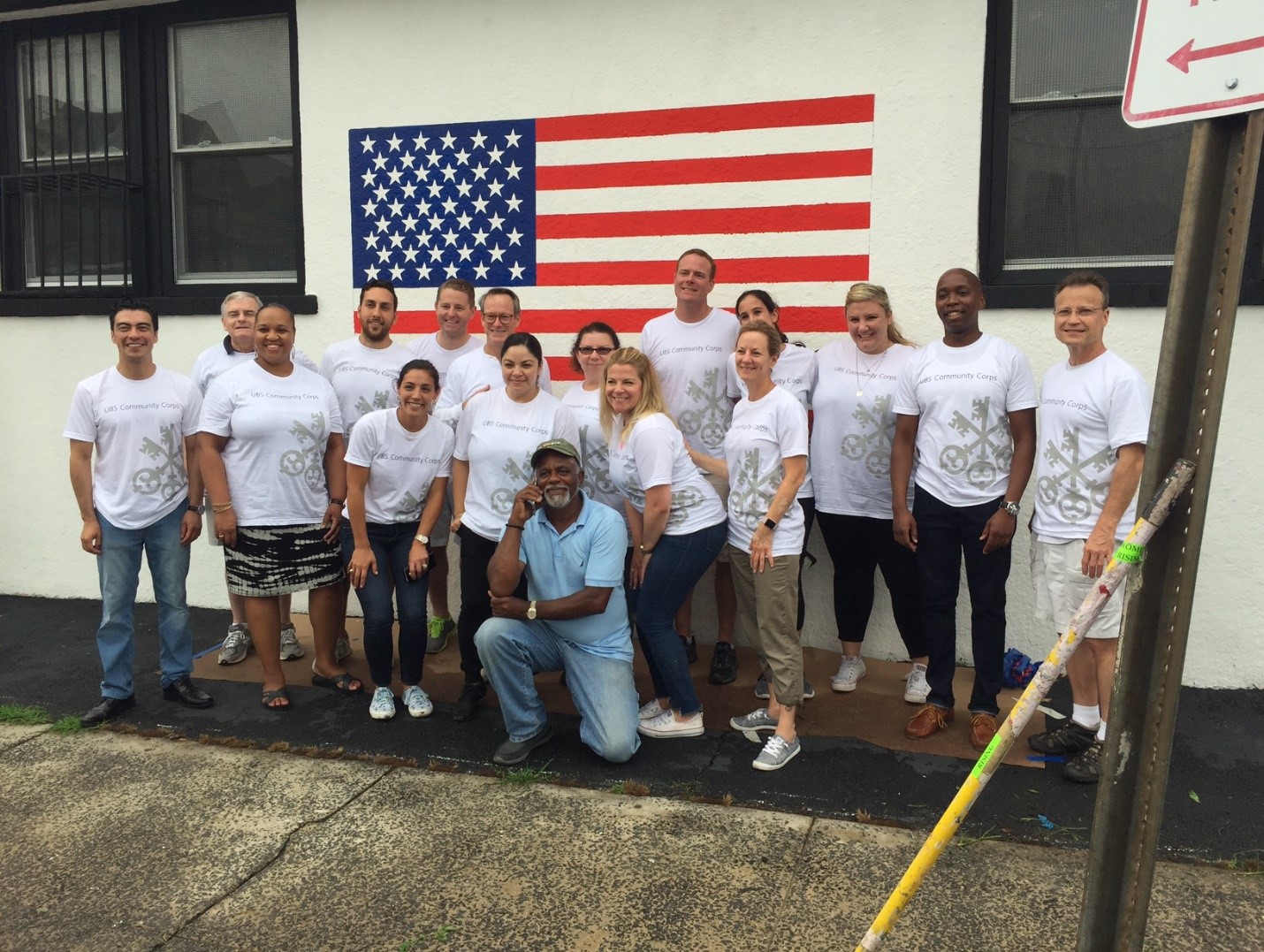 For veterans, life after the military can be challenging and having a place to gather together can often ease that transition. Employees from UBS volunteered their time to give back to the heroes who have given everything to serve their country at VFW Post 2294, the only remaining VFW in Jersey City. To celebrate their sacrifices, volunteers decided to bring some color to the building's faded exterior, painting a beautiful American flag on the outside wall. UBS didn't stop there, they also worked together to assemble Veterans Hope Packs, complete with basic toiletries and hand-made no-sew fleece blankets to be donated to homeless veterans. Thank you UBS!
---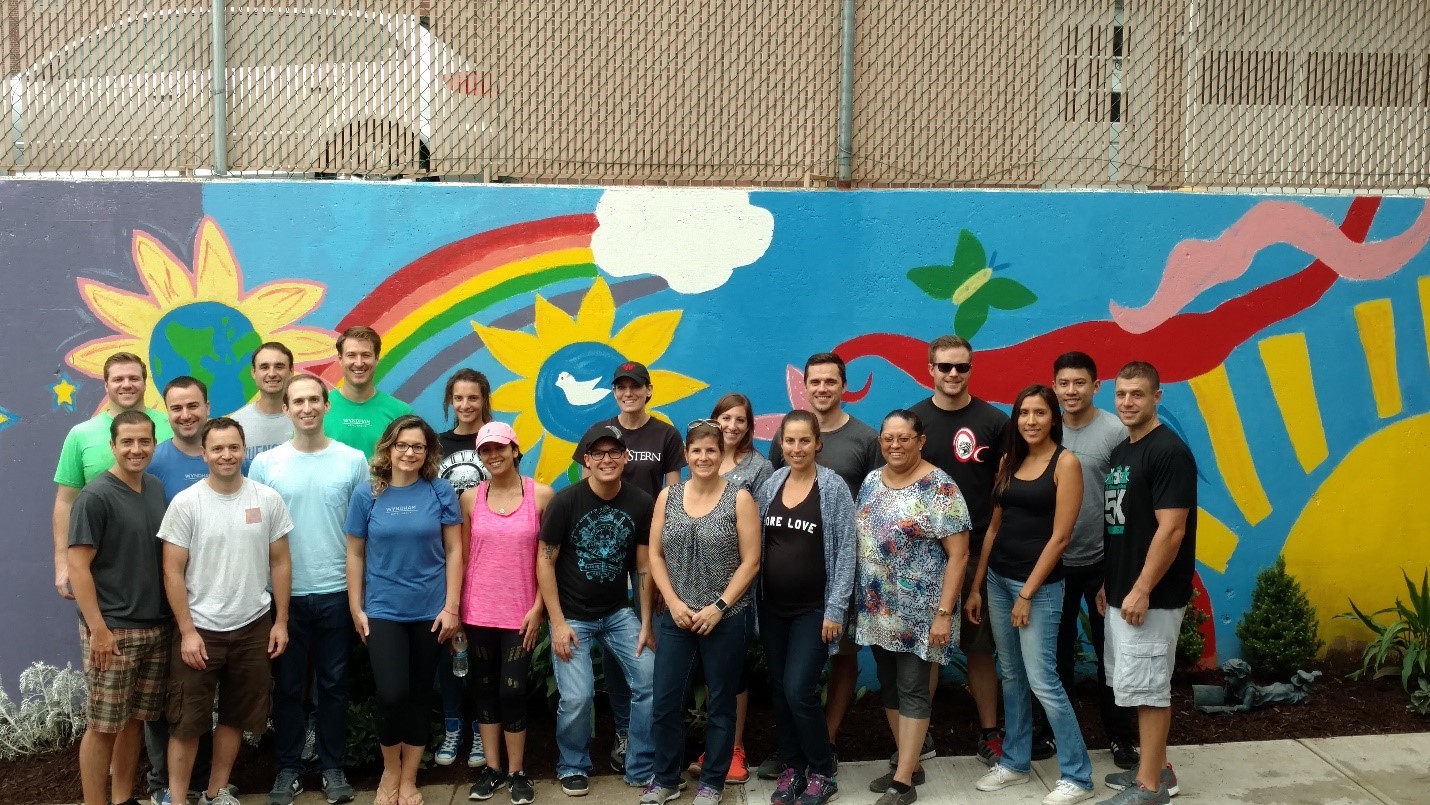 Wyndham Hotel Group Breathes Life into Deirdre's House
Taking a break from playing hosts to countless weary travelers, employees from Wyndham Hotel Group decided to close their hotel doors and devote their morning to sprucing up Deidre's House for abused and neglected children in Morristown. Eager and ready to serve, these volunteers took it upon themselves to ensure the agency's children come back to a brighter and more inviting place by giving their backyard a much-needed facelift. Armed with paintbrush and power drills, volunteers got to work building picnic tables, giving new life to an unstained fence, painting a fresh coat of paint to a faded shed, planting beautiful flowers and painting planter murals to help Deirdre's House look as welcoming as possible to incoming children. Thanks to Wyndham's selfless volunteers for helping make Deidre's House feel like a home away from home!
---
UBS Has a Successful Season of Service
Many would agree that summer is the best season of the year. Great weather, the beach, wearing shorts, and vacations are all reasons we love the summertime. However, for UBS volunteers, summer is meaningful for a different reason. From June-August in 2017, more than 200 UBS volunteers participated in 16 different service events as a part of their "Season of Service" initiative. Click here to read more about their impact! These volunteers painted walls, led workshops with children, assembled furniture, planted flowers, and much more to help benefit public schools, veterans organizations, community centers, public parks, and many other types of nonprofit partners around North Jersey and Hudson County. It was very impressive to not only see UBS volunteers dedicating their time to help out their local communities, but to also see them benefiting a variety of organizations that work with a wide demographic of people. Thank you, UBS for dedicating your summer to helping those who need it the most.
---
Dental Care Puts Smiles on Students' Faces
Even a solar eclipse couldn't stop Dental Care from brightening the lives of others! Volunteers worked with a local community center, landscaping, making summer time crafts and leading an interactive STEM workshop with the students, assembling activity bags, and more. Thanks to their hard work, the students enjoyed another great day at camp. Thank you, Dental Care!
---
CommVault Works with local Boys and Girls Club
It was CommVault's first experience volunteering through Jersey Cares and, according to the volunteers, it was a hit! The volunteers worked at a local after school program, assembling snack bags for students, hosting a "photo booth" activity, and more. There was nothing more satisfying for the CommVault volunteers than to see the smiles on all the children's faces. Thank you, CommVault!

---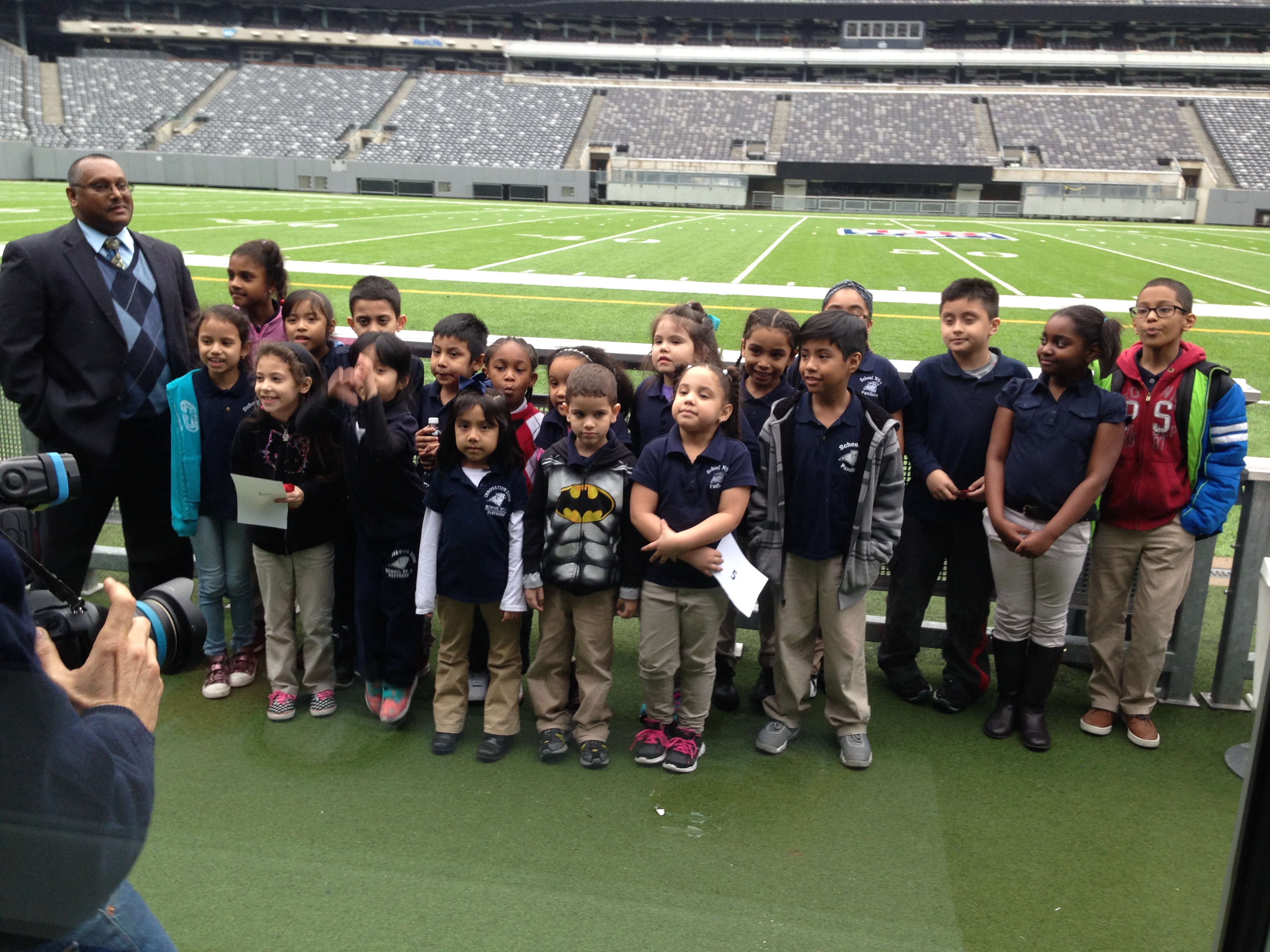 MetLife builds bikes for kids
It was a special occasion for students from a public school in Paterson, NJ as they were invited to MetLife Stadium by MetLife employees for an intimate tour of the stadium. Little did they know, employees from MetLife not only were going to give the students a tour, but they had also assembled brand new bicycles to give away to each of the students. When the children met the MetLife employees and found out they were getting bicycles, pure joy ensued. Thanks to the partnership of MetLife and Groove Management, these kids will enjoy their new bicycles for years to come. Thank you, MetLife!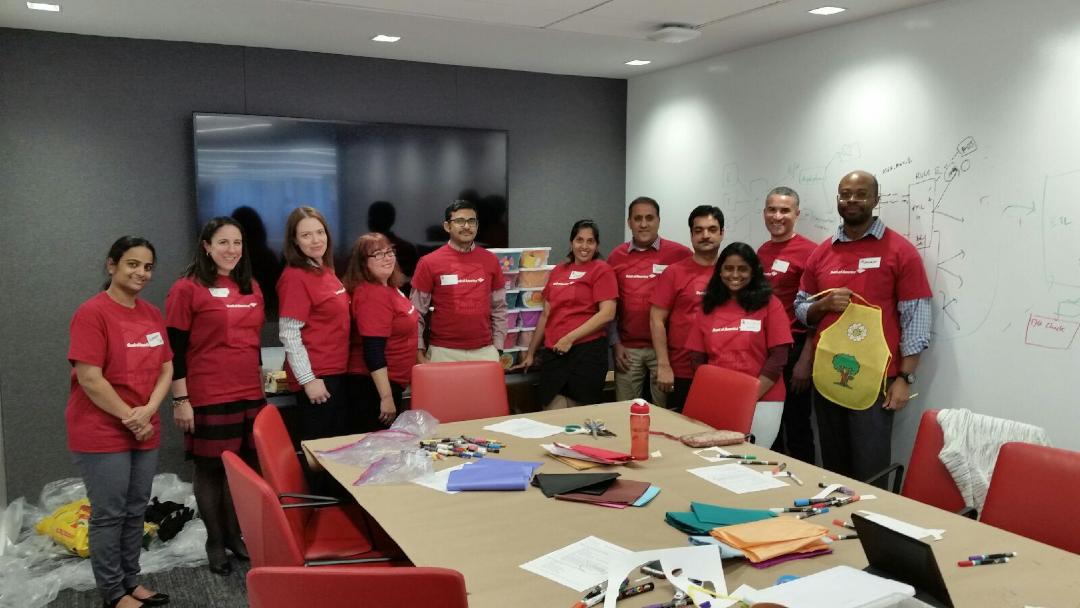 Bank of America prepares for Spring
Believe it or not, Spring is right around the corner! What better way to prepare local students for Spring than by creating garden kits? Bank of America was certainly up to the task (and frankly they were just sick of the winter). These garden kits included items like seeds, a hand shovel, and other items to help cultivate a sense of environment in these young students. Thank you, Bank of America, for helping bring in the Spring for these students!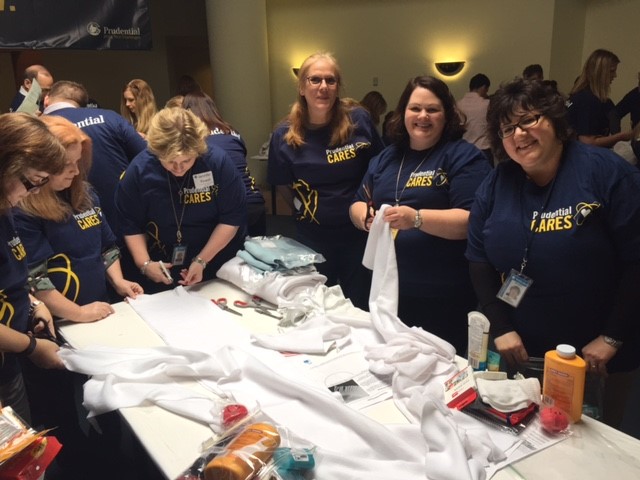 Prudential provides hope to Veterans
When it comes to serving our veterans, no one does it like Prudential. Prudential is so passionate about serving our veterans that they created hundreds of "Veterans Hope Kits," designed for homeless veterans. These kits provide basic toiletries and clothes for homeless veterans including soap, blankets, gloves, toothpaste, and much more. Thank you, Prudential, for thinking of the veterans who sometimes are forgotten and need an extra hand in this world.