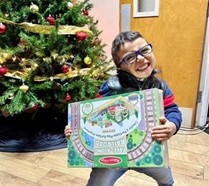 Why donate to Jersey Cares?
By donating to Jersey Cares, you are supporting hundreds of our nonprofit and community partners throughout New Jersey. Your support allows Jersey Cares to provide essential school supplies to students, serve meals to individuals experiencing homelessness, clean-up our local parks, and much more.
Donations between $25-$100 will:
Support the collection of school supplies, hygiene products, winter coats, and other essential items for individuals in need.
Help Jersey Cares recruit hundreds more volunteers to serve our communities.
Assist Jersey Cares in identifying struggling community organizations in need of volunteer support.
Looking for other ways to support Jersey Cares? Please consider the following:
Jersey Cares Store:
Looking for an alternative way to support Jersey Cares? Choose from a variety of t-shirts, hats, and other "swag" products at the Jersey Cares online store. Click HERE to start shopping!
---
#Change4Change Round Up Program:
Donate your spare change in support of Jersey Cares! Follow these 4 simple steps to get started or click HERE to sign up!
Register to receive text messages about all things Jersey Cares by texting "Jersey" to 26989
Do good while you shop by donating spare change every time you make a purchase using your credit card
Invite your friends to sign up and multiply your impact
Stay connected to watch your spare change create BIG change in New Jersey!
---
Donate by Mail:
Please send a check made payable to "Jersey Cares" to:
Jersey Cares
Attn: Brian Dean
290 West Mount Pleasant Ave. Suite #1320
Livingston, NJ 07039
(973) 533-1993
---
Matching Gifts
Contact your company's human resources department to see if your donation can be matched.
---
Dollars for Doers
Turn Your Service Hours Into Corporate Dollars for Jersey Cares! Many companies give grants to nonprofits as a reward for their employees' exceptional level of volunteerism in the community. Does your company have a Volunteer Incentive Program? Contact your Human Resources Department to check out your eligibility for the program.
---
United Way Designation
Designate your United Way gift to Jersey Cares.
---
Tribute Gift
Make a donation in the name of a friend or relative or in honor of a friend or relative.
---
Corporate Giving
Jersey Cares offers many opportunities for corporations to strengthen New Jersey by supporting Jersey Cares. Please visit our Corporate Partnership section for an overview of opportunities or contact Michelle Dee at (973) 533-1993.
---
Jersey Cares Fundraising Events
Explore our website for more information about future fundraising events.