Opportunities available for ages 4-25
Volunteering at a young age builds self-esteem, fosters connection to the community, and teaches valuable life skills that transfer to the classroom, workplace, and everyday life such as collaboration, problem solving, critical thinking, and leadership.
Although most parents, teachers, and youth leaders would encourage their children or students to volunteer, it's not always easy to find youth volunteer opportunities. That's why Jersey Cares has developed a series of resources to help engage our youth in volunteer and service-learning programs. By exposing our youth to meaningful volunteer opportunities, we are helping to foster empathy, inclusivity, and unity in our communities for generations to come.
---
Youth Service Events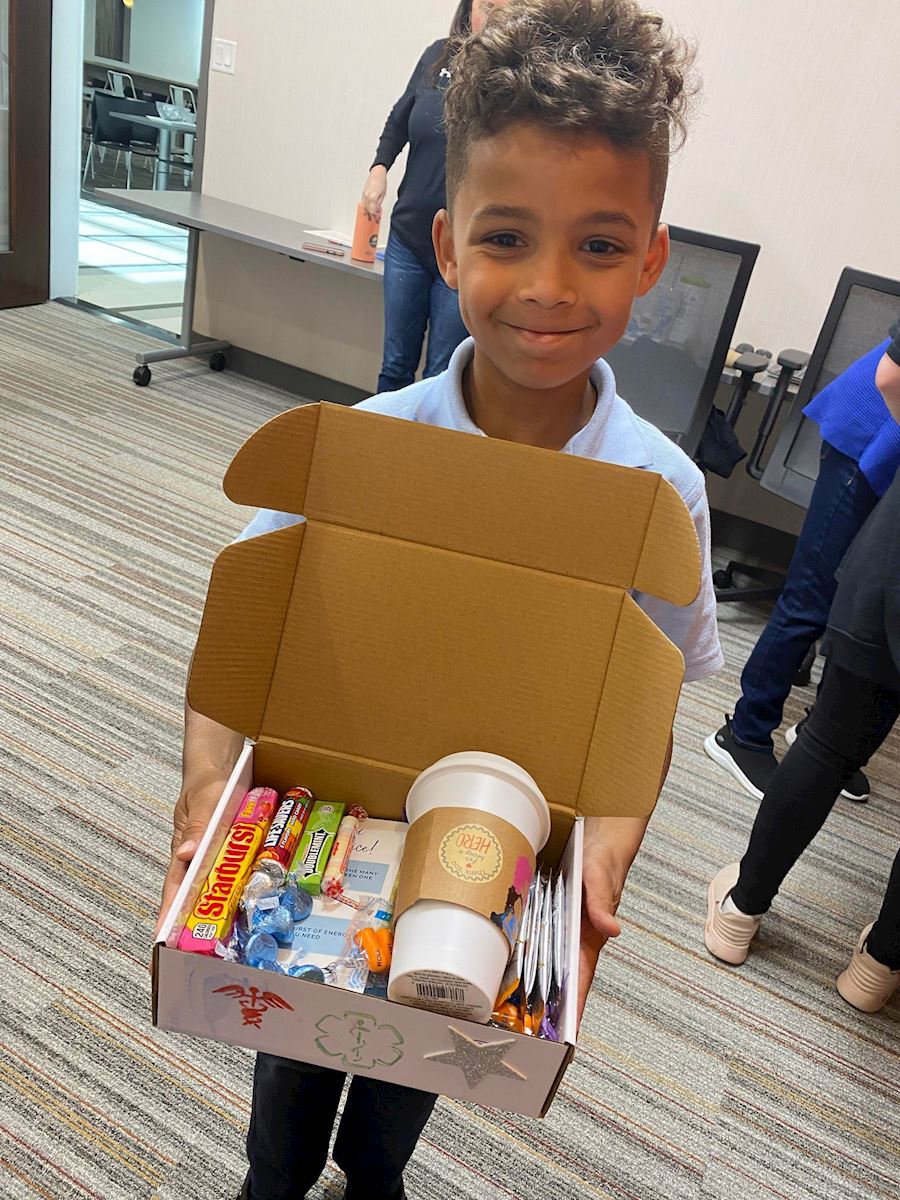 Jersey Cares makes it easy for youth to volunteer through our Youth Service Events. Volunteers ages 4-17 and their families are invited to participate in projects benefiting a local nonprofit, public school, or community organization. Jersey Cares offers two ways to participate in Youth Service Events:
Public Youth Service Events
Jersey Cares hosts quarterly Youth Service Events at our offices in Livingston, NJ. During these events, youth create kits to be donated to one of Jersey Cares' nonprofit partners. Past events have included First Responder Kits to honor our service men and women, Teacher Appreciation Kits for public school teachers in NJ, and more. Sign ups for public Youth Service Events are limited in capacity and volunteers are asked to register all attending participants.
The next public Youth Service Event will be hosted on Monday, January 15, 2024, as part of Jersey Cares Martin Luther King Day of Service. Please visit the MLK event page found HERE for further information.
Private Youth Service Events
Jersey Cares organizes custom Youth Service Events as a benefit of spnosorship. Private events are created based on the preferred date, location, and project of the sponsoring organization or person based on Jersey Cares' suggested list of volunteer projects. Private events can be conducted at the Jersey Cares office in Livingson, NJ or at a space provided by the sponsoring organization such as a classroom, conference room, etc.
To learn more about organizing a private Youth Service Event, contact Kathleen McGlynn at kmcglynn@jerseycares.org.
---
Volunteer Opportunity Calendar
In addition to youth-only opportunities, Jersey Cares hosts a variety volunteer projects through our Volunteer Opportunity Calendar every day of the year. Many projects are appropriate for ages 12+ years old with adult supervison, with a small selection appropriate for ages as low as 7 years old. You can search for opportunities by date, location, or project type. When selecting an opportunity, the age limit will be listed under "Requirements" on the right side panel of the webpage or you can search by age of volunteer!
Click HERE to browse our Volunteer Opportunity Calendar. If you have any questions regarding the calendar, please email us at info@jerseycares.org.
---
Jersey Cares Clubs
The Jersey Cares Clubs are designed for K-12 schools in New Jersey. It is an opportunity to utilize the Jersey Cares team in educating students in service learning and providing opportunities for school age children and teens to get involved in their communities through service. Students learn how to find out about critical needs in their own communities and how to address them. Students will participate in impactful donation drives, youth service events, fundraisers, and other projects. The club is flexible to the needs of your school from integrating into an existing club or starting a new club entirely.
Click HERE to learn more about Jersey Cares Clubs or click HERE to express interest in creating your own.
---
Social Media Ambassador Program
Appropriate for ages 12-25
Jersey Cares is seeking youth leaders to help increase the level volunteer engagement in New Jersey through our Social Media Ambassador Program. Using your network of friends, family, and community members you can help Jersey Cares recruit and engage more people in impactful volunteer programs while earning volunteer service hours. As a Social Media Ambassador, you will receive guidelines and tips to post exclusive content on your social media pages. Your support will help Jersey Cares engage more volunteers and serve more communities in New Jersey.
Click HERE to read the program requirements or click HERE to become an ambassador.
---
President's Volunteer Service Award
The President's Volunteer Service Award (PVSA) recognizes the important role of volunteers in America's strength and national identity. This award honors individuals whose service positively impacts communities in every corner of the nation and inspires those around them to take action. As a PVSA Certifying Organization, Jersey Cares can award the PVSA to volunteers serving New Jersey communities through Jersey Cares and other qualifying organization. Depending on your age and the number of volunteer hours served, you can earn a Bronze, Silver, Gold, or Lifetime Achievement Award. Youth volunteers may be eligible to recieve a PVSA be completing a certain number of volunteer hours within a 12-month period.
Click HERE to learn more about the PVSA and Eligibility Requirements.
Want to track your hours? Click HERE to access the Jersey Cares PVSA Volunteer Hours Tracking Form. Once you've reached a PVSA milestone, please email this form to info@jerseycares.org to receive your award.
Please note: In order to obtain a PVSA through Jersey Cares, 20% of the eligible volunteer service must have been completed through Jersey Cares programming.
---
DIY Youth Volunteer Projects
Appropriate for ages 4-17
Jersey Cares Do-It-Yourself Volunteer Projects provide opportunities for young people to make a difference in their community on their own time. These projects are great for girl and boy scouts, after-school programs, and summer programs. Each project listed below should be conducted under the supervision of an adult. Review any of the project instructions below to get started.
First Night Kit Assembly
Assemble kits for homeless shelters, transitional housing facilities, and family services centers filled with essential hygiene items. Individuals and families spending their "first night" will receive a First Night Kit filled with shampoo, soap, toothpaste, deodorant, and other essential hygiene products to help them through a difficult period of their lives.
Youth volunteers can earn a maximum of 5 volunteer hour for First Night Kits assembled unless previously discussed with the Volunteer Programs Team.
Click HERE to access the First Night Kit Assembly instructions and drop off information.
No-Sew Fleece Blanket Assembly
Assemble no-sew fleece blankets to keep our neighbors warm and cozy throughout the year. Each no-sew fleece blanket will be donated to a homeless shelter, transitional housing facility, or family services center.
Youth volunteers can earn a maximum of 5 volunteer hours for No-Sew Fleece Blankets created unless previously discussed with the Volunteer Programs Team.
Click HERE to access the No-Sew Fleece Blanket Assembly instructions and drop off information.
Card Making
Write and decorate cards to honor and celebrate senior citizens, first responders, or healthcare heroes. This project can be done in-person or virtually.
Youth volunteers can earn a maximum of 3 volunteer hours for cards created unless previoulsy discussed with the Volunteer Programs Team.
Click HERE to access the Card Making instructions and drop off information.
Ready to make your card? Click HERE to access the Virtual Card Template.
---
Questions? Please call us at 973-533-1993 or email us at volunteer@jerseycares.org.