"We must adjust to changing times and still hold to unchanging principles." ― Jimmy Carter
Recent history has posed many unique and evolving challenges to our communities. Food insecurity, student learning gaps, mental health issues, environmental crises, global pandemics, and other challenges have negatively impacted the quality of life for individuals and families across the world. To address these pressing issues, Jersey Cares believes we must create deep and meaningful partnerships across all sectors of society.
The Jersey Cares Corporate Service Program provides our partners with tailored community service opportunities. Companies benefit from individualized corporate volunteer initiatives designed expressly for their employees and created specifically to accommodate their needs and schedules, while addressing community-identified needs. Let Jersey Cares help you make volunteering seamless and meaningful for your employees.
Understanding that volunteerism is not "one size fits all, " Jersey Cares will craft volunteer programs around your company's impact pillars and your employees' interests, all while meeting the needs of our community partners. Examples of Jersey Cares corporate programs and opportunities include:
---
IN-PERSON VOLUNTEER OPPORTUNITIES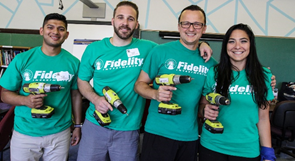 Jersey Cares partners with hundreds of nonprofit organizations to engage corporate volunteers in meaningful projects that create enriching environments in which students can learn, help vulnerable communities access fresh food, provide essential items to individuals experiencing homelessness, promote environmental sustainability, and much more. Jersey Cares makes it easy to volunteer, managing all project details from start to finish. This includes identifying project tasks, providing all project supplies, and leading volunteers on the day of the project.
---
VIRTUAL & REMOTE VOLUNTEER OPPORTUNITIES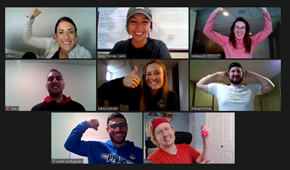 The demand for virtual and remote volunteerism has grown exponentially since the onset of the pandemic. Jersey Cares has developed a wide variety of nationally praised virtual volunteer programs that benefit communities globally and locally. This includes opportunities such as:
Virtual Workshops with Students – Using video conferencing platforms, corporate volunteers host live interactive work

sho

ps

with students. These workshops provide students with an immersive experience alongside real-world professionals while gaining deeper understanding of topics ranging from STEM education to financial literacy.

At-Home Kit Assembly – Looking for an opportunity to get a little more hands-on, but remain virtual and still meet comm

uni

ty-identified needs? Jersey Cares offers a selection of "kit-assembly" volunteer projects that can be conducted from home. Supplies and instructions are sent directly to your team members' homes and completed individually or as part of a virtual event.

Virtual Team Building Programs – Tired of the same old virtual team meetings? With virtual volunteer activities that encourage teamwork and foster collaboration, you can turn any virtual meeting into an opportunity to build your team and strengthen your community.

---

CUSTOM COLLECTION DRIVES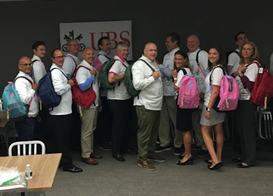 Jersey Cares partners with hundreds of nonprofit and community organizations whose clients are desperately in need of essential items such as school supplies, toiletries, clothing, food, and more. Through Custom Collection Drives, Jersey Cares will match corporate volunteer groups with community organizations in need of donations. Jersey Cares will work with community partner organizations to determine a catered list of their most needed donations and provide corporate volunteers with instructions and materials necessary to conduct a successful collection drive, virtually and/or in-person.
---
SKILLS-BASED VOLUNTEER PROGRAM
Leveraging the skills and expertise of your employees, Jersey Cares will create customized skills-based volunteer projects that increase nonprofit organizations' capacity to serve their communities. This program provides corporate employees with an impactful project that enhances their overall engagement and work experience and allows them to use their skills in new and meaningful ways, while creating a deep connection to the nonprofit they are supporting. Projects can be crafted around improving a nonprofit organization's marketing strategies, technology or web platforms, program development, social media engagement, employee leadership, and more.
---
HEALTHY FOOD DELIVERY PROGRAM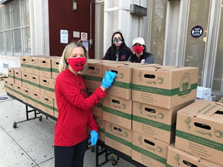 Jersey Cares partners with a regional non-profit organization to deliver healthy food to New Jersey families who are struggling to obtain basic groceries. Our partner is a values-based food distributor that connects our region's sustainable family farms to communities. With your support, food deliveries will be made to public-school distribution sites, food pantries, shelters, and other community organizations. Not only will your support help feed families across the region, but will also support small family farmers and enable them to continue critical food production. Volunteer opportunities are available for corporate groups during food distribution days.
---
SENIOR SHOPPERS PROGRAM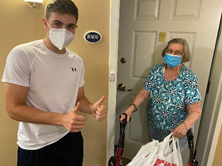 Jersey Cares partners with the New Jersey Office on Aging to close the gap on a critical need for senior citizens. Corporate volunteer groups are needed for grocery shopping and delivery services to senior citizens in Morris County, Somerset County, Ocean County, or Gloucester County who cannot leave their home. All deliveries are performed using contact-less practices, including front door drop-off.
---
SPONSORSHIP OPPORTUNITIES
Would you like to support Jersey Cares programs while creating positive brand awareness for your company? Corporate sponsorships are needed to ensure students are starting the school year equipped with supplies, individuals experiencing homelessness receive coats during the winter, and communities are uplifted from difficult circumstances. By sponsoring Jersey Cares programs, your company will receive benefits such as logo recognition, customized volunteer projects created for your employees, virtual engagement opportunities, and more. To learn more about sponsorship opportunities, click here.
---
CORPORATE SERVICE BROCHURE
If your company is looking for creative ways to connect with your community, check out the Jersey Cares Corporate Service Brochure for additional information.
---
CORPORATE SERVICE INQUIRY FORM
If you are an organization looking to learn more about any of the Jersey Cares Corporate Service Program initiatives, please fill out this inquiry form or contact Kathleen McGlynn, Associate Director of Corporate Relations at kmcglynn@jerseycares.org and a Jersey Cares staff member will contact you as soon as possible.