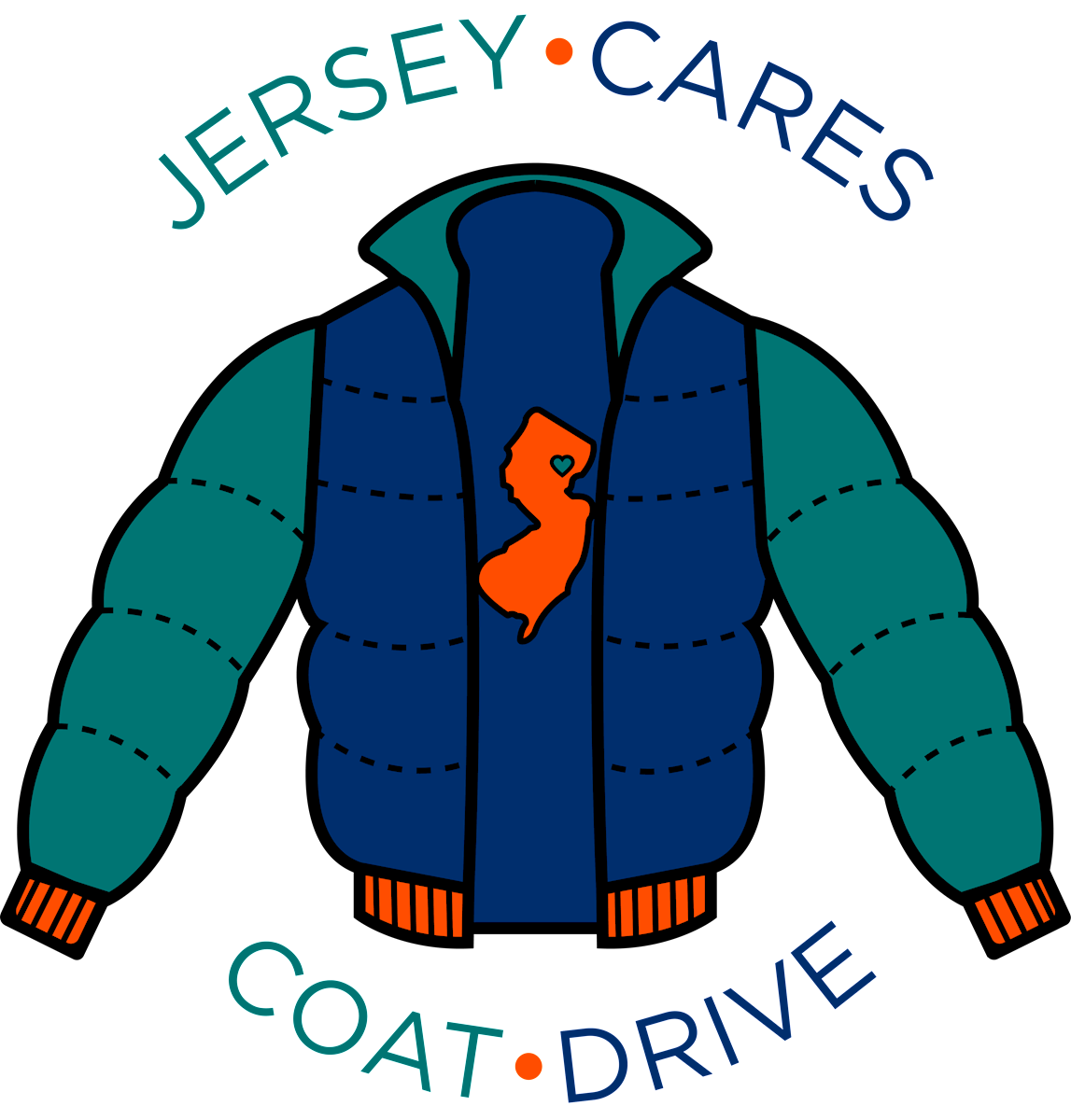 November 8th 2021 - January 9th 2022
For the past 25 years, The Jersey Cares Coat Drive has mobilized the collection and distribution of thousands of "gently used" winter coats to men, women, children, and infants in need. Last year, Jersey Cares collected more than 20,000 coats throughout the state of New Jersey. Companies, churches, police stations, schools and other organizations collect coats throughout the drive and deliver them to a central location, where volunteers then organize the donated coats and package them for pick-up. Our approved nonprofit partners then pick-up and distribute the coats to people in need.

Register to Donate Coats
By registering as a collection site, you offer all your neighbors and community members a convenient location to donate their coats and ensure that more coats make it to those in need. You can establish a private or public collection site during the whole coat drive or for a shorter period (i.e., two months, two weeks, a few days, etc.). Being a "public" collection site simply means that we will post your address and hours on our website so that anyone in your area looking for a place to donate a coat can bring their coats to you!
Once you submit your collection site form, you will receive an automated email that includes a flyer, site instructions, a donation tax receipt, and links to your local drop off locations.
Please note that collection boxes are not provided and all collection sites are required to deliver their coats directly to their local container site – we are not able to provide individual pick-ups due to the size of this program.
** Please note that we only accept new and/or gently used coats and refrain from donating stained or dirty coats. **
Please DO NOT donate hats, gloves, scarves, or any other clothing items.
To register as a collection site please click HERE once registration opens in November 2021.
Drop-Off Information:
Coats may be dropped off between Monday, November 8th, 2021 - Sunday, January 9th, 2022 at public collection sites across the state.
If you have less than 10 coats to donate, please find your closest collection site once our drive begins in November 2021.
If you have more than 10 coats to donate, please find your closest container site once our drive begins in November 2021. Please call the Jersey Cares Office prior to arrival at (973) 533-1993 for the lock combination.
Having trouble opening your container? Please watch this YouTube video for assistance.
Due to the size of this drive, Jersey Cares cannot pick up coats and coats are not accepted at the Jersey Cares office.
---
Volunteer to Sort Coats
Volunteers age 14+ are needed to distribute donated coats on Thursday, January 21st. To register for an opportunity, please click one of the below links.
Coat Distribution in Branchburg
Coat Distribution in Cherry Hill
Coat Distribution in Freehold
Coat Distribution in Garfield
Coat Distribution in Livingston
Coat Distribution in Metuchen
Coat Distribution in Morristown
Coat Distribution in Union
---
Purchase Coats Online
Don't have a coat to donate, but want to help keep New Jersey warm? Online purchasing will open in November 2021 to purchase and donate a coat virtually.
---
Register to Receive Coats
Thank you for your interest! Our registration is now closed.
Registration for our 2021-22 Coat Drive will open in November 2021.
As an agency recipient you may receive new and/or gently used coats. Please be advised that donations cannot be guaranteed and distribution operates on a first-come, first-served basis. We rely heavily on the participation of collection sites, therefore we cannot guarantee the number of coats requested will be filled.
**Please be advised that only registered 501c3 organizations, government agencies, or public schools from New Jersey will be considered for donations**
Once the deadline approaches, agencies will be called or e-mailed if orders become available for pick-up. Pick-ups operate by appointment only. We appreciate your patience during the donation sorting process.
To register your agency to receive coats, please check back when our drive opens in November 2021..
Non-Profit Partners Pick-Up Instructions:
Jersey Cares will be distributing coats on Thursday, January 20th, 2022 from 9:00 a.m. until 12:00 p.m. By registering to receive coats for your organization, you must be available and have the necessary vehicle(s) during this date and time to pick up your coats. If coats become available prior to this date, you will be contacted by a Jersey Cares staff member to schedule a pick-up.
---
Questions? Please call us at 973-533-1993 or email us at coatdrive@jerseycares.org.